No Evidence Supporting Prophylactic Indomethacin Treatment for Most Preterm Infants
No Evidence Supporting Prophylactic Indomethacin Treatment for Most Preterm Infants
https://pediatricsnationwide.org/wp-content/uploads/2021/02/022812ds391HRBW_NICU-for-web-header-1024x575.gif
1024
575
Lauren Dembeck
Lauren Dembeck
https://pediatricsnationwide.org/wp-content/uploads/2021/03/Dembeck_headshot.gif
Inconsistency among studies prompted researchers to take a closer look at the drug's effects.
Despite limited evidence supporting its use, prophylactic indomethacin treatment is often administered to very preterm infants within the first 24-hours after birth to reduce the risks of intraventricular hemorrhage and longer-term neonatal morbidities, such as bronchopulmonary dysplasia (BPD). Data from a new study published in the Journal of Perinatology confirms its lack of effectiveness in improving mortality and BPD, supporting a continued move away from its use.
"Recent observational studies have reported big improvements in mortality and BPD with prophylactic indomethacin treatment, but these were inconsistent with data from older randomized controlled trials, suggesting potential biases in these newer results," says senior study author and neonatologist Jonathan Slaughter, MD, MPH, of the Center for Perinatal Research within the Abigail Wexner Research Institute at Nationwide Children's.
Dr. Slaughter and his team conducted a retrospective study in a large cohort of preterm infants (n=1167) to assess the relationship between prophylactic indomethacin administration and mortality and BPD at 36-weeks postmenstrual age, and to evaluate for prophylactic indomethacin-associated acute kidney injury, which has been reported previously.
The infants were born between 22 to 28 weeks of gestation and admitted to Nationwide Children's on postnatal days 0 and 1 between May 2009 and September 2017. All infants in the study survived the first 24 hours after birth, the age for eligibility to receive prophylactic indomethacin at the time, thereby eliminating a survivor treatment selection bias Each infant was continuously followed until outcomes were recorded. Of the 1167 infants, 200 were treated with prophylactic indomethacin and 967 were untreated.
"Our study is also observational, but we designed our study to minimize biases and control for confounding factors the best we could," says Dr. Slaughter, who is also an Associate Professor of Pediatrics at The Ohio State University.
After adjusting for covariates, including gestational age and size, the investigators found no differences in the adjusted risks of the composite primary outcome of death or BPD, BPD, or death by 36-weeks postmenstrual age following prophylactic indomethacin.
"The aim of treating preterm babies with prophylactic indomethacin is to help them not only survive, but also to decrease the risk of chronic diagnoses," says first author and research associate Hibo Abdi, MPH. "But, our data do not show that it reduces mortality or BPD."
The mean creatinine levels between treated and untreated infants were similar, except for higher levels on postnatal day 2 among treated patients, suggesting little or no detectable prophylactic indomethacin-associated acute kidney injury. However, it is important to note that the utility of this surrogate measure is limited, as creatinine levels do not rise until 25-50% of renal function has been lost.
"Until we have evidence that this drug is clearly beneficial, I think it's best not to treat, especially given the known nephrotoxicity of indomethacin in infants. Perhaps one day it might be found beneficial in smaller, specific preterm infants populations, but absent future clarifying research it appears most preterm infants do not benefit," says Dr. Slaughter.
Going forward, Dr. Slaughter and colleagues will be evaluating the effectiveness of other treatments for improving longer-term neonatal outcomes.
Reference:
Abdi HH, Backes CH, Ball MK, Talavera-Barber MM, Klebanoff MA, Jadcherla SR, Mohamed TH, Slaughter JL. Prophylactic Indomethacin in extremely preterm infants: association with death or BPD and observed early serum creatinine levels. Journal of Perinatology. 2021 Mar 4.  Epub ahead of print.
Image credit: Nationwide Children's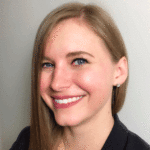 Lauren Dembeck, PhD, is a freelance science and medical writer based in New York City. She completed her BS in biology and BA in foreign languages at West Virginia University. Dr. Dembeck studied the genetic basis of natural variation in complex traits for her doctorate in genetics at North Carolina State University. She then conducted postdoctoral research on the formation and regulation of neuronal circuits at the Okinawa Institute of Science and Technology in Japan.
Lauren Dembeck

https://pediatricsnationwide.org/author/lauren-dembeck/

Lauren Dembeck

https://pediatricsnationwide.org/author/lauren-dembeck/

Lauren Dembeck

https://pediatricsnationwide.org/author/lauren-dembeck/

Lauren Dembeck

https://pediatricsnationwide.org/author/lauren-dembeck/