A Quick and Reliable Method to Determine The Time to Full Weight Bearing in Patients Undergoing Intramedullary Limb Lengthening
A Quick and Reliable Method to Determine The Time to Full Weight Bearing in Patients Undergoing Intramedullary Limb Lengthening
https://pediatricsnationwide.org/wp-content/uploads/2018/05/101816ds1388-iobst-for-web-1024x575.gif
1024
575
Lauren Dembeck
Lauren Dembeck
https://pediatricsnationwide.org/wp-content/uploads/2021/03/Dembeck_headshot.gif
A new method to objectively measure bone healing may help the patient with an intramedullary lengthening nail make strides to full weight bearing status.
Intramedullary limb lengthening is indicated for the treatment of limb length discrepancy and short stature. Traditionally, the procedure was done using external fixators, which must remain on the patient's limb for months at a time—a considerable burden. Within the last decade, implantable intramedullary nail systems have become a popular, patient-friendly alternative for limb lengthening. However, a critical question associated with the new technology remains unanswered — when is it safe for a patient with an intramedullary nail to resume full weight bearing?
The first steps towards the answer were recently published by researchers at Nationwide Children's Hospital in Strategies in Trauma and Limb Reconstruction.
"There is no objective way to look at a patient, clinically or radiographically, to know with 100% certainty that they are able to bear weight fully and not have a complication, either bending or breaking the nail," says senior author Christopher Iobst, MD, pediatric orthopedic surgeon at Nationwide Children's who specializes in the field of limb lengthening and reconstruction.
"At high-volume centers like ours, we have gained a significant amount of experience judging radiographs to see if a patient has healed enough to advance to the next level of weight bearing, but it is mostly subjective. For general orthopedic surgeons who may not perform limb lengthening procedures regularly, it would be ideal to have an objective measure of weight bearing potential."
To develop such a measure, the researchers conducted a retrospective chart review of 42 patients who underwent unilateral lengthening of the femur at Nationwide Children's and assessed the utility and feasibility of using the pixel value ratio of the bone's four cortices as an objective measure of the potential for the patient to be full weight bearing.
"So, we try to balance advancing weight bearing with maintaining caution because weight bearing is very important in healing," says Dr. Iobst. "We also want to help the patient to get back to their normal routine."
The pixel value ratio was monitored throughout the distraction and consolidation stages and was used to determine the ratio at the time of full weight bearing. They found that no adverse effects had occurred when the patients commenced full weight bearing when three of the four cortices had a pixel value ratio of at least 0.93. The mean time to full weight bearing as determined clinically and radiologically was 125.7 (± 30.1) days from surgery, and the mean pixel value ratio at that time was 0.94.
Thus, the team concluded that the pixel value ratio is "a quick and reliable method to objectively assess the state of healing of the regenerate bone during distraction osteogenesis."
"The software associated with digital radiographic systems can output the appropriate values for the pixel value ratio calculation," says Dr. Iobst, "During a patient's visit, you could do it in a few minutes and give them a report, positive or negative, regarding their weight bearing status."
At the moment, the pixel value ratio measurement strategy is still considered 'for research purposes only'. However, Dr. Iobst adds that he and his colleagues are currently working on follow up studies to validate its use in the clinic.
Reference:
Bafor A, Duncan ME, Iobst CA. Evaluating the Utility of the Pixel Value Ratio in the Determination of Time to Full Weight-bearing in Patients Undergoing Intramedullary Limb Lengthening. Strategies in Trauma and Limb Reconstruction. 2020;15(2):74-78. doi:10.5005/jp-journals-10080-1461
Image credit: Nationwide Children's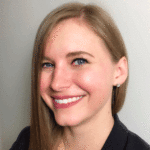 Lauren Dembeck, PhD, is a freelance science and medical writer based in New York City. She completed her BS in biology and BA in foreign languages at West Virginia University. Dr. Dembeck studied the genetic basis of natural variation in complex traits for her doctorate in genetics at North Carolina State University. She then conducted postdoctoral research on the formation and regulation of neuronal circuits at the Okinawa Institute of Science and Technology in Japan.
Lauren Dembeck

https://pediatricsnationwide.org/author/lauren-dembeck/

Lauren Dembeck

https://pediatricsnationwide.org/author/lauren-dembeck/

Lauren Dembeck

https://pediatricsnationwide.org/author/lauren-dembeck/

Lauren Dembeck

https://pediatricsnationwide.org/author/lauren-dembeck/