Severely Obese by Kindergarten: What's a Doctor to Do?
Severely Obese by Kindergarten: What's a Doctor to Do?
https://pediatricsnationwide.org/wp-content/themes/corpus/images/empty/thumbnail.jpg
150
150
Tiasha Letostak, PhD
Tiasha Letostak, PhD
https://pediatricsnationwide.org/wp-content/uploads/2021/03/Tiasha-Letostak.jpg
The numbers of children and adolescents with severe obesity have continued to rise in the past 30 years, but only a few centers provide evidence-based care for severe childhood obesity.
Childhood obesity affects 17 percent of children in the United States, and nearly one-third of these children are severely obese. The prevalence rates of children with severe obesity are increasing rapidly, setting kids up for a lifetime of health issues, from early atherosclerosis and hypertension to type 2 diabetes and psychological problems.
Studies indicate that children with severe obesity respond poorly to conventional lifestyle interventions. Although bariatric surgery can be an effective treatment, long-term outcomes are still being studied, and it is often inaccessible to most families due to the limited availability of adolescent programs offering the option.
However, according to a recent paper from the Institute of Medicine's (IOM) Roundtable on Obesity Solutions, these poor responses to lifestyle interventions may be because current approaches assume that all children and adolescents with obesity or severe obesity are a homogenous group. The process of clinical subtyping could identify variations in severe childhood obesity, leading to improved treatments.
Ihuoma Eneli, MD, medical director of the Center for Healthy Weight and Nutrition at Nationwide Children's Hospital and primary author of the IOM discussion paper, and colleagues agree that research characterizing this population of children with severe obesity is the first step to unraveling appropriate treatment options.
The American Academy of Pediatrics Institute for Healthy Childhood Weight and the Children's Hospital Association have already partnered to begin the process of clinical subtyping for severe obesity, creating the Expert Exchange, an interdisciplinary group of experts from tertiary care obesity programs at 21 children's hospitals nationwide. The Expert Exchange will focus on children ages 0 to 5 years old. The project will include qualitative feedback from clinicians, families and children, all of whom are integral to determining how individual characteristics may form recognizable subtypes.
"Currently, there is a deficit in our knowledge about early-onset childhood obesity, but children who present with severe obesity by age 5 are a subgroup that is distinct and rare enough to potentially offer a number of specific clinical subtypes," says Dr. Eneli, who is also a professor of Clinical Pediatrics at The Ohio State University College of Medicine. "By broadly examining etiological and clinical characteristics across several stages of the life cycle — early infancy, toddlerhood and preschool phase — research would cut across several developmental stages, environmental settings and caregivers, ultimately leading to a promising framework on which further, more effective treatment can be based."
"The Expert Exchange initiative offers a chance to advance the care of children and adolescents with severe obesity," explains Dr. Eneli. "And the perspective of clinicians who treat these young children is an invaluable part of the process of clinical subtyping."
References:
Eneli I, Woolford SJ, Hassink S. Advancing the care of children and adolescents with severe obesity: a reason for clinical subtyping. Discussion Paper, Institute of Medicine, Washington, 2015 Apr 30.
Katzmarzyk PT, Barlow S, Bouchard C, Catalano PM, Hsia DS, Inge TH, Lovelady C, Raynor H, Redman LM, Staiano AE, Spruijt-Metz D, Symonds ME, Vickers M, Wilfley D, Yanovski JA. An evolving scientific basis for the prevention and treatment of pediatric obesity. International Journal of Obesity. 2014 Jul;38(7):887-905.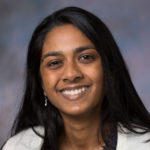 Tiasha is the senior strategist for Clinical & Research Communications at Nationwide Children's Hospital. She provides assistance to investigators in The Research Institute and clinician-scientists at Nationwide Children's for internal and external communication of clinical studies, peer-reviewed journal articles, grant awards and research news. She is also the editor-in-chief for Research Now, Nationwide Children's monthly, all-employee e-newsletter for research, as well as a writer for Pediatrics Nationwide.
Tiasha Letostak, PhD

https://pediatricsnationwide.org/author/tiasha-letostak-phd/

Tiasha Letostak, PhD

https://pediatricsnationwide.org/author/tiasha-letostak-phd/

Tiasha Letostak, PhD

https://pediatricsnationwide.org/author/tiasha-letostak-phd/

Tiasha Letostak, PhD

https://pediatricsnationwide.org/author/tiasha-letostak-phd/