Taking a Closer Look at the Relationship Between Type 2 Diabetes and Cardiovascular Disease
Taking a Closer Look at the Relationship Between Type 2 Diabetes and Cardiovascular Disease
https://pediatricsnationwide.org/wp-content/uploads/2015/10/Microvessles.jpg
1024
575
Tiasha Letostak, PhD
Tiasha Letostak, PhD
https://pediatricsnationwide.org/wp-content/uploads/2021/03/Tiasha-Letostak.jpg
A new study reveals surprising results regarding vascular stiffness of coronary microvessels in the presence of type 2 diabetes.
Type 2 diabetes mellitus (T2DM) is a chronic condition that affects the glucose metabolism as a result of insulin resistance. Patients with T2DM are two to four times more likely to have a heart attack than non-diabetic patients.
In pediatric patients, the incidence of T2DM is increasing as childhood obesity rates climb, setting the stage for early cardiovascular complications in this population. This increased likelihood of heart attack was primarily attributed to the hardening of the large arteries, known as atherosclerosis, and vascular stiffness, which result in impaired coronary artery and heart function.
Now, a multi-institutional team of researchers has found that microvessels, the tiny coronary blood vessels that regulate blood flow to the heart, are smaller and are less stiff in early T2DM as opposed to more stiff, which is the case for larger arteries. This underscores the potential importance of vascular stiffness in the progression of cardiovascular disease in type 2 diabetic patients.
"In animal model studies, we previously demonstrated that microvessels are smaller in early type 2 diabetes, which was associated with reduced blood flow to the heart, so we expected that these coronary microvessels would be more stiff than normal, like other diabetic tissues and blood vessels," says Aaron J. Trask, PhD, FAHA, principal investigator in the Center for Cardiovascular and Pulmonary Research at The Research Institute at Nationwide Children's Hospital and senior author of the study, which was published in the Annals of Biomedical Engineering. "However, the microvessels were actually less stiff, presenting an intriguing paradigm of vascular-bed-specific remodeling and adaptation to early type 2 diabetes."
One component known to contribute to the stiffness of these vessels is the extracellular matrix, which is the "glue" that holds cells together. The goal of this study, according to Dr. Trask, was to determine how the extracellular matrix impacts vascular mechanics, or stiffness, in large arteries and small microvessels in T2DM.
The research team, which also consisted of investigators at Ohio Northern University and The Ohio State University, isolated coronary microvessels and aortas from normal and type 2 diabetic mice and measured vascular stiffness/mechanics on pressure myographs. After measuring intact vascular mechanics, researchers removed the cells of vessels using a detergent, which left a mostly intact extracellular matrix, and vascular mechanics measurements were repeated.
"Our data revealed distinct differences in vascular mechanics between coronary microvessels and aortas and indicated that the extracellular matrix may be the limiting factor to maximal aorta size, which was not the case in coronary microvessels," says Dr. Trask, who is also an assistant professor in the Department of Pediatrics at The Ohio State University College of Medicine. "Importantly, the presence of diabetes appeared to only affect the mechanics of the coronary microvessels at this early stage of diabetes, suggesting that they may be more sensitive to the early consequences of type 2 diabetes than conduit arteries, thereby increasing their propensity to contribute earlier to diabetic heart disease."
Dr. Trask and his colleagues are currently working to measure the stiffness of vascular cells in blood vessels to determine whether or how vascular cell stiffness contributes to the observed characteristics of cardiovascular disease. The team is attempting to determine whether this contributes to the overall negative cardiovascular impacts that occur in early type 2 diabetes.
"The importance of vascular cell stiffness in the progression of vascular disease in type 2 diabetes remains to be fully determined," explains Dr. Trask. "We are also undertaking novel studies to investigate how communication between vascular smooth muscle cells and endothelial cells that line the blood vessels may contribute to adverse vascular remodeling in early type 2 diabetes."
Reference:
Anghelescu M, Tonniges JR, Calomeni E, Shamhart PE, Agarwal G, Gooch KJ, Trask AJ. Vascular mechanics in decellularized aortas and coronary resistance microvessels in type 2 diabetic db/db mice. Annals of Biomedical Engineering. 2015 May 19 [Epub ahead of print].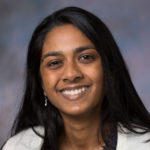 Tiasha is the senior strategist for Clinical & Research Communications at Nationwide Children's Hospital. She provides assistance to investigators in The Research Institute and clinician-scientists at Nationwide Children's for internal and external communication of clinical studies, peer-reviewed journal articles, grant awards and research news. She is also the editor-in-chief for Research Now, Nationwide Children's monthly, all-employee e-newsletter for research, as well as a writer for Pediatrics Nationwide.
Tiasha Letostak, PhD

https://pediatricsnationwide.org/author/tiasha-letostak-phd/

Tiasha Letostak, PhD

https://pediatricsnationwide.org/author/tiasha-letostak-phd/

Tiasha Letostak, PhD

https://pediatricsnationwide.org/author/tiasha-letostak-phd/

Tiasha Letostak, PhD

https://pediatricsnationwide.org/author/tiasha-letostak-phd/