Molecular Toolset: Real-Time Screening for SARS-CoV-2 Variants
Molecular Toolset: Real-Time Screening for SARS-CoV-2 Variants
https://pediatricsnationwide.org/wp-content/uploads/2021/03/AdobeStock_42423701-1024x683.jpg
1024
683
Lauren Dembeck
Lauren Dembeck
https://pediatricsnationwide.org/wp-content/uploads/2021/03/Dembeck_headshot.gif
Tracking variants of concern or interest is critical to inform public health decisions and to ensure patients receive the best available COVID-19 treatments for SARS-CoV-2 infections.
Researchers at Nationwide Children's Hospital and The Ohio State University (OSU) have developed a set of mutation-specific tests with same-day reporting that can detect five variants of concern (VOCs) and three variants of interest (VOIs), currently recognized by the Centers for Disease Control and Prevention, of the COVID-19-causing virus SARS-CoV-2. Their report was published in the Journal of Clinical Microbiology.
"Viruses are constantly evolving. In the setting of a pandemic, it is key to track those mutations—some of which can confer resistance to therapy or vaccines or significantly increase transmissibility—so that public health officials can react to them," says first author Huanyu Wang, PhD, D(ABMM) who is assistant director of Clinical Microbiology and Immunoserology at Nationwide Children's. "To track viral variants and specific mutations, the gold standard is the whole genome sequencing (WGS), but that can be time consuming, labor intensive, and costly."
The PCR-based tests can be multiplexed and detect mutations that are characteristics of those known VOCs and VOIs, enabling a much faster turnaround time at a much lower cost relative to WGS. "We are on the very forefront and are able to provide diagnostics for COVID-19," shares Dr. Wang. "We can act on positive samples very quickly, in real time, to identify and track these known variants."
Among VOCs—The B.1.1.7 variant from England has mutations that allow higher transmissibility and increased virulence. The B.1.3.5.1 and P.1 variants from South Africa and Brazil, respectively, show increased binding to the receptor used to infect humans. They are also more transmissible and can partially escape the protective immunity from prior infection or vaccination. The B.1.427 and B.1.429 variants from California show 20% increased transmission and confer resistance to some COVID-19 treatments.
"For example, when it was discovered that the variants from California are resistant to some of the monoclonal antibody treatments and that these variants were responsible for almost half of the COVID cases in neighboring states, the Food and Drug Administration issued a warning so physicians would know not to use those antibodies alone when treating their patients," explains Dr. Wang.
Using nasopharyngeal swab samples collected at Nationwide Children's, the investigators demonstrated that the results from their strain-specific primers used in the PCR-based test and from WGS were nearly 100% concordant. The exceptions were those for the B.1.427/429 VOCs; five samples were found to be carrying a newly emerged variant that is rapidly spreading in the Eastern United States, B.1.526.1, exemplifying the power of this rapid screening method to enabling early detection of new variants and to triage cases for full genomic sequencing.
The team also showed that the timing of emergence of PCR-detected variants in stored samples matched what is known about their spread in US. "In our population, we reported the earliest P.1 infection in Ohio, which was collected in early February 2021," recounts Dr. Wang, who is also a Clinical Assistant Professor at The OSU College of Medicine. P.1 was identified only in South America until January of 2021.
The primers for the PCR-based assay have been shared with the public, and the Ohio-based team will continue to monitor the evolution of SARS-CoV-2 variants and to inform public health. "This was not one study. It is actually a continuing study", details Dr. Wang. "With time, as new variants keep evolving, we are going to develop new assays for real-time detection, such as for the delta variant."
Reference:
Wang H, Jean S, Eltringham R, Madison J, Snyder P, Tu H, Jones DM, Leber AL. Mutation-specific SARS-CoV-2 PCR screen: rapid and accurate detection of variants of concern and the identification of a newly emerging variant with spike L452R mutation. Journal of Clinical Microbiology. 2021 Jul 19;59(8):e0092621. [Epub 2021 Jul 19.]
Image credit: Adobe Stock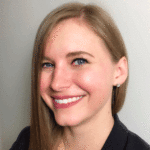 Lauren Dembeck, PhD, is a freelance science and medical writer based in New York City. She completed her BS in biology and BA in foreign languages at West Virginia University. Dr. Dembeck studied the genetic basis of natural variation in complex traits for her doctorate in genetics at North Carolina State University. She then conducted postdoctoral research on the formation and regulation of neuronal circuits at the Okinawa Institute of Science and Technology in Japan.
Lauren Dembeck

https://pediatricsnationwide.org/author/lauren-dembeck/

Lauren Dembeck

https://pediatricsnationwide.org/author/lauren-dembeck/

Lauren Dembeck

https://pediatricsnationwide.org/author/lauren-dembeck/

Lauren Dembeck

https://pediatricsnationwide.org/author/lauren-dembeck/