Robotic Surgery Is Here to Stay
Robotic Surgery Is Here to Stay
https://pediatricsnationwide.org/wp-content/themes/corpus/images/empty/thumbnail.jpg
150
150
Abbie Miller
Abbie Miller
https://pediatricsnationwide.org/wp-content/uploads/2023/05/051023BT016-Abbie-Crop.jpg
A recent publication describes increases in the use of robotic surgery in children's hospitals across the country.
 The use of robotic surgery in tertiary children's hospitals has been on the rise since the 2000s. In a recent publication, researchers from Nationwide Children's Hospital sought to characterize the use and growth in acceptance of robotic surgeries in the pediatric hospital setting.
"The adoption of robotic surgery for pediatric procedures has been relatively recent," says Marc Michalsky, MD, MBA, a pediatric surgeon and surgical director of the Center for Healthy Weight and Nutrition and director of the Center for Robotic Surgery at Nationwide Children's. "And we believe there is additional room for growth."
The team used data from 19 children's hospitals in the United States, obtained through the Pediatric Health Information System (PHIS). The results of their analysis showed a 1.3% increase per quarter in robotic surgery case volume in pediatric surgery overall and a 2.0% increase per quarter for pediatric urologic case volume. The researchers also observed increases in the numbers of pediatric surgeons and pediatric urologists who were operating robotically.
Biliary system and spleen surgeries were the most common robotic procedures in pediatric surgery, with stable utilization over time, while foregut surgery showed the most rapid growth (2.1% per quarter).
Renal pelvis/ureter surgery was the most common robotic procedure in urology, and it was also the fastest growing utilization (2.2% per quarter).
"The main takeaway for me after reviewing the national data on robotic utilization in pediatric urology was that despite the increase for renal pelvis/ureter surgery, we did not identify a similar trend for more complex urologic reconstruction. Our experience here at Nationwide Children's is that a robotic approach to complex urologic reconstruction is not only feasible, but it provides many advantages over standard open surgical techniques. We are excited to lead the way nationally in expanded robotic utilization in children and in turn provide our patients with cutting edge care and best outcomes," says Daryl McLeod, MD, a pediatric urologist at Nationwide Children's and a co-author of the study.
As robotic surgery continues to become a more integral part of pediatric surgical practice, Drs. Michalsky and McLeod say that training present and future surgeons is an important priority. In fact, Nationwide Children's is one of the few surgical training programs in the country to have a separate and fully functional DaVinci surgical robot dedicated to surgical education – presently located in the Nationwide Children's Hospital newly opened Simulation Center.
"The accelerating development and application of surgical robotic technology is very exciting and will likely result in additional benefits for both surgeons and patients in the years to come. Nationwide is committed to being at the forefront of this exciting field " says Dr. Michalsky.
Reference:
Richards HW, Klaylat AN, Cooper JN, McLeod DJ, Diefenbach KA, Michalsky MP. Trends in robotic surgery utilization across tertiary children's hospitals in the United States. Surgical Endoscopy. 2020 Oct 28. [Epub ahead of print]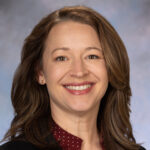 Abbie (Roth) Miller, MWC, is a passionate communicator of science. As the manager, medical and science content, at Nationwide Children's Hospital, she shares stories about innovative research and discovery with audiences ranging from parents to preeminent researchers and leaders. Before coming to Nationwide Children's, Abbie used her communication skills to engage audiences with a wide variety of science topics. She is a Medical Writer Certified®, credentialed by the American Medical Writers Association.
Abbie Miller

https://pediatricsnationwide.org/author/abbie-miller/

Abbie Miller

https://pediatricsnationwide.org/author/abbie-miller/

Abbie Miller

https://pediatricsnationwide.org/author/abbie-miller/

Abbie Miller

https://pediatricsnationwide.org/author/abbie-miller/