How Does a Children's Hospital Excel in the Discovery and Development of New Therapies?
How Does a Children's Hospital Excel in the Discovery and Development of New Therapies?
https://pediatricsnationwide.org/wp-content/uploads/2020/11/Achieving-Clarity-Header-1024x575.jpg
1024
575
Abbie Miller
Abbie Miller
https://pediatricsnationwide.org/wp-content/uploads/2023/05/051023BT016-Abbie-Crop.jpg
A conversation with Dennis Durbin, MD, MSCE chief scientific officer, Abigail Wexner Research Institute, Nationwide Children's Hospital
Nationwide Children's has become an epicenter for gene therapy discovery and development. The discovery in 2009 that adeno-associated virus (AAV) could cross the blood-brain barrier was a milestone in the development of dozens of gene therapy products for neuromuscular diseases in the pipeline in the Center for Gene Therapy at the Abigail Wexner Research Institute (AWRI) – including the first gene therapy product to be approved for systemic administration.
Since the approval of that landmark therapy, Zolgensma for spinal muscular atrophy (SMA), the team at Nationwide Children's hasn't slowed down in their quest to bring more life-saving therapies to children everywhere.
In this conversation with Dennis Durbin, MD, MSCE chief scientific officer at AWRI, we explore the role of pediatric academic centers in novel therapy development.
First, why do it? Why should a children's hospital be involved in therapeutic development and technology commercialization?
This is an obligation that comes with being a leading academic medical center. As a destination hospital that cares for children every day with diseases for which we don't have effective treatments, we have a responsibility to support the discovery and translation of novel, life-changing therapies for these patients.
Many times, discoveries and innovations don't make it across the gap that exists between the lab and the clinic. It takes a number of integrated resources to help those discoveries and innovations bridge that gap, and the best pediatric academic centers have developed these resources in-house. At Nationwide Children's we've been intentional about sustained investment in core capabilities such as clinical trials, regulatory affairs, pharmacy, technology commercialization and clinical manufacturing, among others, that ensure we have the ability to translate discoveries from our labs to our patients' bedsides.
Additionally, supporting technology transfer and commercialization of those discoveries improves the financial viability of the organization by generating revenue that can be used to support research operations. "No margin, no mission" – it takes money to do what we do. For example, our institutional investment in gene therapy has been easily in the ballpark of $70 million over 15 years.
Finally, it helps us recruit highly talented faculty and staff. Our integration of research and clinical care, combined with our institutional investment in the Office of Regulatory Affairs, Office of Technology Commercialization, our clinical manufacturing facility, animal resources core, and Clinical Research Services, makes us a destination of choice for researchers who are leading their fields.
Why do you think we are seeing this big increase in academic participation in technology commercialization?
It's fair to say that children's hospitals have historically been underrepresented in the therapeutic commercialization process because most of it was happening in response to more common illnesses that impact adults. But as scientific technologies have advanced, specifically in genomics, cell and gene therapy, and other advanced biologic therapies, we have been able to address many pediatric conditions that often have a genetic component to their underlying mechanism. It is becoming increasingly clear that rare genetic diseases that disproportionally affect children are now viable targets for therapeutic development.
In the "old days" of drug development, the pharmaceutical industry, academic institutions, investors and biotechology startups played more linear, prescribed roles, with academic institutions primarily being the source of initial discovery. Now, academic institutions can play multiple increasingly complex roles in the therapeutic development ecosystem.
How is gene therapy an example of the changing dynamic between industry and academia?
Academic research institutions have always served as factories for churning out new discoveries. And in the case of rare genetic diseases, the biggest opportunity for a life-saving therapy is in childhood. That's why pediatric academic institutions are behind some of the most revolutionary new therapies – including gene therapy.
The field of gene therapy suffered a series of significant setbacks about 20 years ago that resulted in a steep decline in investment in the field. Only a few academic medical centers, including Nationwide Children's Hospital, continued to invest in the field to overcome these initial setbacks. Several technical developments followed that have led us to having safer viral vectors for a number of gene replacement strategies.
What we did with the discovery and development of gene therapy for SMA (Zolgensma) illustrates the many roles that a pediatric academic institution can now play in the development of gene therapies- from source of initial discovery, to early preclinical development, clinical manufacture, site of human clinical trials, co-investor in initial start-up and licensor of the technology to an industry partner to get it across the commercialization finish line.
As this and other novel treatment paradigms continue to mature, academic children's hospitals involved in research and commercialization can continue to play a leading role in the biotechnology ecosystem. We are now working to develop many other gene therapies, as well as cell-based therapies, stem cell therapies and tissue-engineered approaches to pediatric diseases. As we move forward, the landscape is rapidly changing, from manufacturing methods to federal regulations. As the field of gene and other biologic therapies grows, we must continually adapt. With each iteration of the process we are defining best practices.
There are thousands of gene and cell therapies in the development pipeline right now, the majority of which are still in the preclinical stage of development. Billions of dollars of investment in these treatments, as well as multiple clinical trials that have demonstrated improved safety and remarkable efficacy, will ensure that there is a steady stream of novel therapies coming into the commercial market over the next decade.
Currently, the biggest bottleneck in the field of gene therapy is manufacturing capacity. As a children's hospital with experience in producing gene therapy products, we have decided to be part of the solution that helps the field continue to advance. That's why we've announced the creation of Andelyn Biosciences, a for-profit commercial-scale gene therapy Good Manufacturing Practices (cGMP) manufacturing company. Expected to begin operations in late 2020, Andelyn Biosciences will produce materials for phase 1, 2, and 3 gene therapy clinical trials, and when a new facility opens in 2023, Andelyn will be capable of meeting commercial scale manufacturing requirements.
As a for-profit company, revenues generated by Andelyn Biosciences will allow us to reinvest back into the nonprofit research mission at AWRI, supporting its commitment to advance best outcomes for children around the world.
And beyond gene therapy, we'll continue our dedication to our mission and working with industry partners to bring new therapies and devices to children who need them. We'll continue to invest in the infrastructure and culture that supports innovation and discovery. With that investment, we will be well-positioned to develop the next generation of discoveries that change the lives of children everywhere.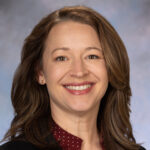 Abbie (Roth) Miller, MWC, is a passionate communicator of science. As the manager, medical and science content, at Nationwide Children's Hospital, she shares stories about innovative research and discovery with audiences ranging from parents to preeminent researchers and leaders. Before coming to Nationwide Children's, Abbie used her communication skills to engage audiences with a wide variety of science topics. She is a Medical Writer Certified®, credentialed by the American Medical Writers Association.
Abbie Miller

https://pediatricsnationwide.org/author/abbie-miller/

Abbie Miller

https://pediatricsnationwide.org/author/abbie-miller/

Abbie Miller

https://pediatricsnationwide.org/author/abbie-miller/

Abbie Miller

https://pediatricsnationwide.org/author/abbie-miller/