Building Heart Valves From Extracellular Matrix
Building Heart Valves From Extracellular Matrix
https://pediatricsnationwide.org/wp-content/themes/corpus/images/empty/thumbnail.jpg
150
150
Abbie Miller
Abbie Miller
https://pediatricsnationwide.org/wp-content/uploads/2023/05/051023BT016-Abbie-Crop.jpg
Physicians at Nationwide Children's Hospital describe the use of an extracellular matrix cylindar valve in the mitral position.
At The Heart Center at Nationwide Children's, Patrick McConnell, MD, a pediatric cardiothoracic surgeon, is using an alternative to the traditional cadaveric, mechanical or biological replacement valve. In a recent case report published in Echocardiography, Dr. McConnell and his colleagues describe the use of an extracellular matrix (ECM) cylinder valve (CV) in the mitral valve position of a 15-month-old child.
For the mitral valve in patients of this age, the traditional choices would be a cadaveric valve or a mechanical valve. Both have significant drawbacks. While Dr. McConnell asserts that the ECM-CV isn't "magic," it does offer some significant benefits to young patients.
For example, the size can be customized for each heart. Patients don't need anticoagulant therapy. Unlike other replacement valves, the ECM valves can been stretched during a catheterization procedure to improve flow as the child grows.
"Our experience with ECM valves tells us that these valves can reduce the number of interventions, and reduce the invasiveness of the required intervention, compared to traditional approaches to mitral valve replacement in children," says Dr. McConnell, who is also an assistant professor of Surgery at The Ohio State University College of Medicine.
In the case report, the child, as discharged on postoperative day six. According to Dr. McConnell, for children who receive mechanical valves, a hospital stay of 45 days postop is not uncommon to get the anticoagulation right.
Three months after Dr. McConnell placed the valve, the patient showed no significant mitral stenosis and not significant regurgitation. The parents reported that the child was back to baseline activity as well.
"While long- and mid-term outcomes for these valves in the pediatric population are unknown, we've shown that excellent short-term outcomes are achievable," says Dr. McConnell.
Dr. McConnell and his colleagues continue to follow patients, like the one in this case report, who have received ECM mitral valves as well as patients who receive ECM pulmonary valves with conduits. They plan to publish results from these patients in the future.
Reference:
Cua CL, Johnston P, Harmon J, Shelton K, McConnell, PI. Custom extracellular matrix cylinder mitral valve in a pediatric patient. Echocardiography. 2017: DOI; 10.1111/echo.13702.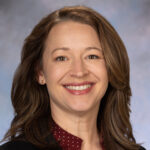 Abbie (Roth) Miller, MWC, is a passionate communicator of science. As the manager, medical and science content, at Nationwide Children's Hospital, she shares stories about innovative research and discovery with audiences ranging from parents to preeminent researchers and leaders. Before coming to Nationwide Children's, Abbie used her communication skills to engage audiences with a wide variety of science topics. She is a Medical Writer Certified®, credentialed by the American Medical Writers Association.
Abbie Miller

https://pediatricsnationwide.org/author/abbie-miller/

Abbie Miller

https://pediatricsnationwide.org/author/abbie-miller/

Abbie Miller

https://pediatricsnationwide.org/author/abbie-miller/

Abbie Miller

https://pediatricsnationwide.org/author/abbie-miller/