Taking Innovation to Heart: Next Gen Interventions in Heart Valve Disease
Taking Innovation to Heart: Next Gen Interventions in Heart Valve Disease
https://pediatricsnationwide.org/wp-content/uploads/2017/09/Cover-Final-Flat-CMYK-header-for-web-1024x575.gif
1024
575
Abbie Miller
Abbie Miller
https://pediatricsnationwide.org/wp-content/uploads/2023/05/051023BT016-Abbie-Crop.jpg
From bioengineers to interventional cardiologists, molecular biologists to cardiothoracic surgeons, experts with diverse backgrounds are focusing on the problem of heart valve disease in children.
Heart valve disease affects more than 5 million Americans. And while acquired disease in the adult population certainly accounts for much of this, children with heart valve disease face multiple surgeries, procedures and morbidities over the course of their lives.
Pediatric heart valve disease can present at any age. Some infants have valves that need to be treated early on. Some children with bicuspid aortic valves may not even know they have a congenital heart defect until adolescence or adulthood. Each case of congenital heart valve disease is unique, making standardized treatments more difficult to come by.
Heart valve replacement is lifesaving but it is invasive. And the associated morbidity and mortalities of existing treatments for heart valve disease are trade-offs. Despite efforts to treat symptoms with medication or repair the valve through surgery, treatment for children often arrives at heart valve replacement.
Now, surgeons, tissue engineers and interventional cardiologists are tackling heart valve replacements with an aim to improve the outcomes for these children. And molecular biologists, geneticists and engineers are working to understand how these heart defects form in the first place. With rapidly advancing science and technology, and a spirit of collaboration and innovation among scientists, big  changes are on the horizon for the millions of patients with heart valve disease.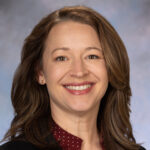 Abbie (Roth) Miller, MWC, is a passionate communicator of science. As the manager, medical and science content, at Nationwide Children's Hospital, she shares stories about innovative research and discovery with audiences ranging from parents to preeminent researchers and leaders. Before coming to Nationwide Children's, Abbie used her communication skills to engage audiences with a wide variety of science topics. She is a Medical Writer Certified®, credentialed by the American Medical Writers Association.
Abbie Miller

https://pediatricsnationwide.org/author/abbie-miller/

Abbie Miller

https://pediatricsnationwide.org/author/abbie-miller/

Abbie Miller

https://pediatricsnationwide.org/author/abbie-miller/

Abbie Miller

https://pediatricsnationwide.org/author/abbie-miller/