Searching for a Predictive Biomarker of Pulmonary Hypertension in Babies With Bronchopulmonary Dysplasia
Searching for a Predictive Biomarker of Pulmonary Hypertension in Babies With Bronchopulmonary Dysplasia
https://pediatricsnationwide.org/wp-content/uploads/2020/04/DSC_0635_HRBW.gif-BPD-header-1024x575.gif
1024
575
Abbie Miller
Abbie Miller
https://pediatricsnationwide.org/wp-content/uploads/2023/05/051023BT016-Abbie-Crop.jpg
Pulmonary hypertension is high blood pressure in the lungs and is a comorbidity of bronchopulmonary dysplasia (BPD), which is the chronic lung disease of premature babies. When pulmonary hypertension is present in the context of BPD, the risk of death is significantly increased.
As neonatologists continue to define the phenotype of severe BPD, Jennifer Trittmann, MD, MPH, and her colleagues in the Center for Perinatal Research at Nationwide Children's are working to identify biomarkers for pulmonary hypertension in these high-risk patients.
"My goal is to create a lab panel of biomarkers, both genetic and metabolic, that could support clinicians as they consider personalized approaches to treatment plans for patients with BPD complicated by pulmonary hypertension," she says.
In a recent publication in Pediatric Research, she and her team identified three novel genetic markers (DUSP1 SNP rs322351, DUSP5 SNP rs1042606, DUSP5 SNP rs3793892) that were statistically different in BPD patients with
pulmonary hypertension compared to BPD patients without pulmonary hypertension. The team also analyzed clinical data of the cohort.
"Analysis of the clinical data revealed that BPD patients with pulmonary hypertension were of younger gestational age, lower birthweight, received less surfactant treatment, more mechanical ventilation, and more postnatal steroids than patients with BPD and no evidence of pulmonary hypertension," says Dr. Trittmann, who is also assistant professor of Pediatrics at The Ohio State University.
Ultimately, the team calculated the area under the curve (AUC), which is a standard statistical test of biomarker sensitivity and specificity. AUC was 0.76 when including both clinical and DUSP genetic data.
"Moving forward, we'll continue to identify and test biomarkers for pulmonary hypertension in babies with BPD until we reach a clinically useful AUC (0.8-1) that can be replicated in a larger independent patient cohort," Dr. Trittmann says. "The goal is to have a lab test for pulmonary hypertension in BPD patients, such that depending on the patient's lab profile, treatments that are specific for known molecular targets, for example in the DUSP pathway, could be used to quickly reverse disease progression."
Reference:
Chen LL, Zmuda EJ, Talavera MM, Frick J, Brock GN, Liu Y, Klebanoff MA, Trittmann JK. Dual-specificity phosphatase (DUSP) genetic variants predict pulmonary hypertension in patients with bronchopulmonary dysplasia. Pediatric Research. 2020 January; 87(1):81-87.
Image credit: Nationwide Children's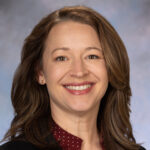 Abbie (Roth) Miller, MWC, is a passionate communicator of science. As the manager, medical and science content, at Nationwide Children's Hospital, she shares stories about innovative research and discovery with audiences ranging from parents to preeminent researchers and leaders. Before coming to Nationwide Children's, Abbie used her communication skills to engage audiences with a wide variety of science topics. She is a Medical Writer Certified®, credentialed by the American Medical Writers Association.
Abbie Miller

https://pediatricsnationwide.org/author/abbie-miller/

Abbie Miller

https://pediatricsnationwide.org/author/abbie-miller/

Abbie Miller

https://pediatricsnationwide.org/author/abbie-miller/

Abbie Miller

https://pediatricsnationwide.org/author/abbie-miller/