Development of a Patient Reported Experience and Outcomes Measure in Pediatric Patients
Development of a Patient Reported Experience and Outcomes Measure in Pediatric Patients
https://pediatricsnationwide.org/wp-content/themes/corpus/images/empty/thumbnail.jpg
150
150
Lauren Dembeck
Lauren Dembeck
https://pediatricsnationwide.org/wp-content/uploads/2021/03/Dembeck_headshot.gif
Researchers develop a questionnaire that enables them to assess the burden of treatment compared to the burden of the disease.
Researchers have developed a rigorous, patient reported experience and outcomes questionnaire for pediatric patients undergoing an intensive bowel management program (BMP).
The report was published online in the Journal of Pediatric Gastroenterology and Nutrition.
"Often physicians prescribe relatively intensive therapy. Sometimes the burden of the therapy can outweigh the burden of the disease," says Katherine Deans, MD, principal investigator and director of the Center for Surgical Outcomes Research at Nationwide Children's Hospital and an author of the study.
"Bowel management for a child who has fecal incontinence or severe constipation can be one of those therapy regimens that can be very burdensome for families," she adds.
Patients and families report that bowel management therapy can be time consuming, labor intensive and uncomfortable. Furthermore, it has the potential to become central to the child's daily activities, overshadowing other things and the needs of other family members. The team sought to develop a unique survey that captures the different domains of daily living in order to be able to measure the burden of this therapy.
In the end, the researchers developed the 33-statement instrument, the Patient Reported Experience and Outcome Measure in a Bowel Management Program (PREOM-BMP), which consists of two separate constructs that assess patient reported experience (22 items) and outcomes (11 items). The tool "encompasses important physical and emotional health concerns, quality of life, treatment success, financial considerations, schooling, parental employment, and social concerns."
As part of a 5-step iterative process to ensure reliability and validity of the final instrument, caregivers of patients undergoing a week-long BMP at Nationwide Children's were asked 20 open-ended questions to reveal the challenges they confront while managing their child's condition.
Then, their responses were developed into an initial 41-item survey and administered to 359 caregivers undergoing BMP. Next, cognitive interviews were performed with 20 families to check face validity and to refine the survey.
"Families interpret the same questions very differently", explains Dr. Deans. "You go through questions and responses in an iterative way so that eventually the reliability of the answer improves."
By having a BMP-specific survey, health care providers can now address how families view the burden of this therapy over time.
"Is the therapy burdensome initially and then as families get more comfortable with it, does it decrease this burden? And then does it mean that it's a good, durable long-term therapy? Or is it the opposite? Is it so burdensome in the beginning that people give up? Or is it easier in the beginning because there's a lot of enthusiasm? Now that we have created and validated this test, we can look at those questions and check for problems along the way," says Dr. Deans, who is also a professor of Surgery at The Ohio State University. "In order to place the needs and expectations of the patient at the core of what we do, it is important that we are aware of the burden that prescribed therapies place on families. We develop therapies to help people – it is essential that we make sure our intentions are reflected in the lives of our patients."
Reference:
Halleran DR, Lane VA, Leonhart KL, Fischer B, Sebastiao Y, Chisolm DJ, Levitt MA, Wood RJ, Minneci PC, Deans KJ. Development of a Patient Reported Experience and Outcomes Measure in Pediatric Patients Undergoing Bowel Management for Constipation and Fecal Incontinence. Journal of Pediatric Gastroenterology and Nutrition. 2019 Mar. [Epub ahead of print].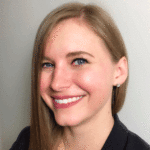 Lauren Dembeck, PhD, is a freelance science and medical writer based in New York City. She completed her BS in biology and BA in foreign languages at West Virginia University. Dr. Dembeck studied the genetic basis of natural variation in complex traits for her doctorate in genetics at North Carolina State University. She then conducted postdoctoral research on the formation and regulation of neuronal circuits at the Okinawa Institute of Science and Technology in Japan.
Lauren Dembeck

https://pediatricsnationwide.org/author/lauren-dembeck/

Lauren Dembeck

https://pediatricsnationwide.org/author/lauren-dembeck/

Lauren Dembeck

https://pediatricsnationwide.org/author/lauren-dembeck/

Lauren Dembeck

https://pediatricsnationwide.org/author/lauren-dembeck/