Long-Term Follow Up of Patients Receiving Novel Gene Therapy for SMA Type I
Long-Term Follow Up of Patients Receiving Novel Gene Therapy for SMA Type I
https://pediatricsnationwide.org/wp-content/themes/corpus/images/empty/thumbnail.jpg
150
150
Abbie Miller
Abbie Miller
https://pediatricsnationwide.org/wp-content/uploads/2023/05/051023BT016-Abbie-Crop.jpg
Spinal muscular atrophy type 1 (SMA1) is a rare neuromuscular disease in which 75 percent of affected children die or require permanent ventilation by 13.6 months. Researchers recently published the long-term outcomes of patients who received the investigational drug AVXS-101 – an adeno-associated virus serotype 9 mediated gene replacement therapy.
Twelve children aged 1 to 8 months were treated and followed for 24 months. Longer-term follow up results are included as available for motor milestones.
Notably, for motor milestones, the patient who was the oldest at treatment achieved fewer milestones than those treated at younger ages.
TREATMENT OF SMA1 WITH GENE THERAPY HAS THE POTENTIAL TO TRANSFORM THE DISEASE COURSE, IN ADDITION TO IMPROVING PATIENT AND CAREGIVER QUALITY OF LIFE. REDUCED USE OF VENTILATION AND NUTRITION SUPPORT, AS WELL AS DECREASED HOSPITALIZATION, COULD SIGNIFICANTLY DECREASE THE OVERALL HEALTH CARE UTILIZATION OF THESE PATIENTS." – RICHARD SHELL, MD, SECTION CHIEF OF PULMONARY MEDICINE AT NATIONWIDE CHILDREN'S
Citation:
Al-Zaidy S, Pickard AS, Kotha K, Alfano LN, Lowes L, Paul G, Church K, Lehman K, Sproule DM, Dabbours O, Maru B, Berry K, Arnold WD, Kissel JT, Mendell JR, Shell R. Health  outcomes in spinal muscular atrophy type 1 following AVXS-101 gene replacement therapy. Pediatric Pulmonology. 2019;54:179-185.
Image credits: Adobe Stock (header); Nationwide Children's (infographic)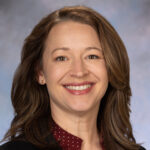 Abbie (Roth) Miller, MWC, is a passionate communicator of science. As the manager, medical and science content, at Nationwide Children's Hospital, she shares stories about innovative research and discovery with audiences ranging from parents to preeminent researchers and leaders. Before coming to Nationwide Children's, Abbie used her communication skills to engage audiences with a wide variety of science topics. She is a Medical Writer Certified®, credentialed by the American Medical Writers Association.
Abbie Miller

https://pediatricsnationwide.org/author/abbie-miller/

Abbie Miller

https://pediatricsnationwide.org/author/abbie-miller/

Abbie Miller

https://pediatricsnationwide.org/author/abbie-miller/

Abbie Miller

https://pediatricsnationwide.org/author/abbie-miller/