Study Identifies Multiple Cell Signaling Pathways for Calcification in Aortic Valve Disease Regulated by Nitric Oxide
Study Identifies Multiple Cell Signaling Pathways for Calcification in Aortic Valve Disease Regulated by Nitric Oxide
https://pediatricsnationwide.org/wp-content/uploads/2017/09/Cross-sections-of-heart2-for-web-1024x753.gif
1024
753
Lauren Dembeck
Lauren Dembeck
https://pediatricsnationwide.org/wp-content/uploads/2021/03/Dembeck_headshot.gif
Exploring novel signaling mediators in calcific aortic valve disease may pave the way for the development of pharmacotherapies to treat this intractable condition during early stages of its progression.
Calcific aortic valve disease is a chronic inflammatory condition characterized by progressive fibrosis and calcification of the heart valves, which can cause narrowing of the aortic valve orifice, heart failure and premature death. The disease is increasingly prevalent among the growing aging population and individuals born with a bicuspid aortic valve, which predisposes them to developing it in adulthood.
Recently, a team led by Vidu Garg, MD, director of the Center for Cardiovascular Research in the Abigail Wexner Research Institute and the Nationwide Foundation Endowed Chair in Cardiovascular Research at Nationwide Children's Hospital, discovered a novel nitric oxide-mediated mechanism that prevents the calcification process in cellular and animal models of calcific aortic valve disease.
"We have become very interested in the role of nitric oxide signaling as a driver for maintaining a healthy aortic valve. When nitric oxide signaling is dysregulated, it predisposes individuals to calcific aortic valve disease," explains Dr. Garg. "Previously, we conducted experiments using cutting-edge methodology, single-cell RNA sequencing, to assess how the regulation of nitric oxide affects calcification."
By conducting an in-depth analysis of their single-cell RNA sequencing data, Dr. Garg and colleagues have now identified novel signaling pathways critical for calcification in aortic valve cells. The findings were published in Frontiers in Cardiovascular Medicine.
Dr. Garg's laboratory previously demonstrated that nitric oxide impacts cells through S-nitrosylation, a reversible post-translational modification of proteins. Prior to RNA sequencing, the researchers subjected aortic valve cells predisposed to calcification with different treatments including a control (untreated), a nitric oxide donor, an S-nitrosylating agent, and nitric oxide-donor withdrawal (3 days of treatment with nitric oxide followed by 2 days of no treatment). As expected, they confirmed that the nitric oxide-donor and S-nitrosylating agent treatment inhibit both spontaneous calcification and myofibroblast activation in the aortic valve cells.
The team then went on to identify 1,247 genes that are differentially expressed in aortic valve cells after nitric oxide-donor or S-nitrosylating agent treatment compared with untreated cells. Using pathway-based analyses, they found that the differentially expressed genes were predominantly part of the integrin signaling pathway, which is known to regulate cell-extracellular matrix communication and focal adhesion. They also found genes involved in the Rho GTPase, Wnt, TGF-β, and p53 signaling pathways, which have well-established roles in cardiac development and disease.
Additionally, with the nitric oxide-donor withdrawal samples, the team found that nitric oxide-mediated gene and protein regulation is transient, meaning that aortic valve cells require continuous nitric oxide exposure to inhibit calcification.
"Overall, we see a variety of different molecular pathways are dysregulated in the calcification of these aortic valve cells, and the integrin signaling pathway appears to be particularly important for maintaining healthy cell-to-extracellular matrix interactions and preventing this disease," adds Dr. Garg. "Further studies are needed to determine whether manipulation of this pathway could slow the progression of calcific aortic valve disease."
Reference
Majumdar U, Choudhury TZ, Manivannan S, Ueyama Y, Basu M, Garg V. Single-cell RNA-sequencing analysis of aortic valve interstitial cells demonstrates the regulation of integrin signaling by nitric oxide. Frontiers in Cardiovascular Medicine. 2022 Oct 25;9:742850. doi: 10.3389/fcvm.2022.742850.
Image credits: Nationwide Children's (Illustration by Mandy Root-Thompson, for Nationwide Children's)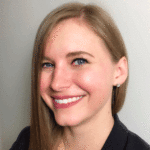 Lauren Dembeck, PhD, is a freelance science and medical writer based in New York City. She completed her BS in biology and BA in foreign languages at West Virginia University. Dr. Dembeck studied the genetic basis of natural variation in complex traits for her doctorate in genetics at North Carolina State University. She then conducted postdoctoral research on the formation and regulation of neuronal circuits at the Okinawa Institute of Science and Technology in Japan.
Lauren Dembeck

https://pediatricsnationwide.org/author/lauren-dembeck/

Lauren Dembeck

https://pediatricsnationwide.org/author/lauren-dembeck/

Lauren Dembeck

https://pediatricsnationwide.org/author/lauren-dembeck/

Lauren Dembeck

https://pediatricsnationwide.org/author/lauren-dembeck/