First In Human
First In Human
https://pediatricsnationwide.org/wp-content/uploads/2021/03/4dc2b000-8f21-11e7-aa62-e89a8fb23f02-1024x752.jpg
1024
752
Abbie Miller
Abbie Miller
https://pediatricsnationwide.org/wp-content/uploads/2023/05/051023BT016-Abbie-Crop.jpg
The Heart Center at Nationwide Children's Hospital has a long history of helping to bring innovations from the lab to the patient. The latest, the Autus Valve, aims to improve care and outcomes for children with pulmonary valve disease.
In December 2021, Mark Galantowicz, MD, cardiothoracic surgeon and director of The Heart Center at Nationwide Children's, made history as he inserted an Autus pulmonary heart valve replacement in his young patient. It was the first time the device has been implanted in a human.
The Autus Valve – the first and only device of its kind – is designed to be implanted in children as young as 2 years old, with the capacity to expand to nearly adult size. Instead of needing multiple invasive open-heart surgeries and multiple valves as the child grows, this valve is designed to be expanded with a balloon catheter as the child grows.
"The idea behind this device, to cut down the number of surgeries a child needs as they grow, is one that we have been chasing in the field of congenital heart disease for some time," says Dr. Galantowicz. "We are proud to be clinical leaders helping drive innovation forward by participating in clinical trials like this one."
Preclinical studies, published in Science Translational Medicine in early 2020, demonstrated durability and functionality of the valve throughout the growth of the animal model. In 2021, the FDA granted approval for an Early Feasibility Study of the device in children aged 2 to 11 years.
Dr. Galantowicz and Aimee Armstrong, MD, director of Interventional Cardiology in The Heart Center, are collaborating with Autus Valve Technologies as co-principal investigators for the device's Early Feasibility Study. The study relies on expertise in both cardiothoracic surgery and interventional cardiology – areas where Nationwide Children's is known to be exemplary in leadership and collaboration. Boston Children's Hospital and Columbia University Irving Medical Center / New York Presbyterian's Morgan Stanley Children's Hospital will also be sites for the trial.
"Because of the capability to balloon expand this valve replacement device both pre- and post-implantation, we sought clinical sites with expertise in both surgery and catheterization," says Sophie-Charlotte Hofferberth, MD, inventor of the Autus Valve. "The Heart Center at Nationwide Children's is a leader in both areas."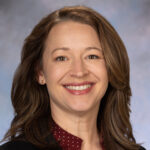 Abbie (Roth) Miller, MWC, is a passionate communicator of science. As the manager, medical and science content, at Nationwide Children's Hospital, she shares stories about innovative research and discovery with audiences ranging from parents to preeminent researchers and leaders. Before coming to Nationwide Children's, Abbie used her communication skills to engage audiences with a wide variety of science topics. She is a Medical Writer Certified®, credentialed by the American Medical Writers Association.
Abbie Miller

https://pediatricsnationwide.org/author/abbie-miller/

Abbie Miller

https://pediatricsnationwide.org/author/abbie-miller/

Abbie Miller

https://pediatricsnationwide.org/author/abbie-miller/

Abbie Miller

https://pediatricsnationwide.org/author/abbie-miller/