Study of Children With COVID-19 Admitted to US and Canadian Pediatric Intensive Care Units
Study of Children With COVID-19 Admitted to US and Canadian Pediatric Intensive Care Units
https://pediatricsnationwide.org/wp-content/uploads/2020/03/AdobeStock_68406059-1024x683.jpg
1024
683
Abbie Miller
Abbie Miller
https://pediatricsnationwide.org/wp-content/uploads/2023/05/051023BT016-Abbie-Crop.jpg
Publication examines the characteristics and outcomes of children with COVID-19 who were admitted to North American PICUs.
While two studies from Wuhan, China, have indicated that COVID-19 disease burden and severity seems to be lower in children, it remains to be seen how children around the world will fare as the pandemic progresses.
In March 2020, the International COVID-19 PICU Collaborative was voluntarily formed by more than 300 PICU and infectious disease specialists from more than 100 of the largest pediatric hospitals across six continents. Now, the collaborative has published their first description of COVID-19 infection burden in North American PICUs. It confirms that severe illness in children can be significant, but occurs far less frequently than in adults.
"Pediatric critical illness in the setting of acute infection with SARS-CoV-2 is rare," says Mark Hall, MD, chief of the Division of Critical Care Medicine at Nationwide Children's Hospital and an author on the study. "It occurs predominately in children with underlying health problems."
The study included children positive for COVID-19 who were admitted to 46 PICUs across the United States, including the one at Nationwide Children's Hospital, between March 14 and April 3. Follow up to April 10 was included in the report.
Of the 48 children admitted, 25 were male, and the median age was 13 years. Significant preexisting comorbidities were present in 40 patients (83% of the cohort). Fourteen children (29%) were admitted to the ICU for an indication other than COVID-19 and were found to be incidentally positive for SARS-CoV-2 with little or no respiratory symptoms. Invasive ventilation was required for 18 patients, and extracorporeal membrane oxygenation (ECMO) was required for one patient.
At the time of this report, hydroxychloroquine, either alone or in combination with other drugs, was the most commonly used antiviral therapy, with 21 children (44%) receiving this treatment. Remdesivir was the next most commonly prescribed anti-COVID-19 therapy (8 patients, 17%). Twenty patients (42%) received no COVID-19-specific treatment. At the end of the follow-up period, two patients had died, 15 were still hospitalized, and three still required ventilatory support (including the one on ECMO).
"The low mortality rate in the cohort, despite significant variability in treatments used from one PICU to another, speaks to the resilience of children in the face of COVID-19," says Dr. Hall, who is also a professor of Pediatrics at The Ohio State University College of Medicine. "It also highlights the importance of providing high quality, supportive PICU care."
Moving forward, he says the International COVID-19 PICU Collaborative represents an ongoing network of sites that will be leveraged to understand the impact of COVID-19 and its aftermath, including the recently described postviral Multisystem Inflammatory Syndrome in Children (MIS-C), on pediatric health care.
Reference:
Shekerdemian LS, Mahmood NR, Wolfe KK, Riggs BJ, Ross CE, McKiernan CA, Heidemann SM, Kleinman LC, Sen AI, Hall MW, Priestley MA, McGuire JK, Boukas K, Sharron MP, Burns JP, International COVID-19 PICU Collaborative. Characteristics and outcomes of children with coronavirus disease 2019 (COVID-19) infection admitted to US and Canadian pediatric intensive care units. JAMA Pediatrics. 2020 May 11. [Published online ahead of print]
Image credit: Adobe Stock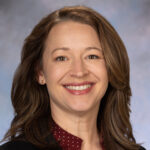 Abbie (Roth) Miller, MWC, is a passionate communicator of science. As the manager, medical and science content, at Nationwide Children's Hospital, she shares stories about innovative research and discovery with audiences ranging from parents to preeminent researchers and leaders. Before coming to Nationwide Children's, Abbie used her communication skills to engage audiences with a wide variety of science topics. She is a Medical Writer Certified®, credentialed by the American Medical Writers Association.
Abbie Miller

https://pediatricsnationwide.org/author/abbie-miller/

Abbie Miller

https://pediatricsnationwide.org/author/abbie-miller/

Abbie Miller

https://pediatricsnationwide.org/author/abbie-miller/

Abbie Miller

https://pediatricsnationwide.org/author/abbie-miller/