Bridging the Gap Between the Genomics Lab and the Cardiology Clinic: CardioGX for Phenotype-Driven Variant Analysis
Bridging the Gap Between the Genomics Lab and the Cardiology Clinic: CardioGX for Phenotype-Driven Variant Analysis
https://pediatricsnationwide.org/wp-content/themes/corpus/images/empty/thumbnail.jpg
150
150
Abbie Miller
Abbie Miller
https://pediatricsnationwide.org/wp-content/uploads/2023/05/051023BT016-Abbie-Crop.jpg
The cloud-based platform is a free tool that empowers clinicians and fosters collaboration to find new genetic mutations that cause heart disease.
Finding ways to support clinicians and researchers in accessing and utilizing genomic data is paramount to incorporating genomics into clinical care. CardioGX (CardioGenomics eXchange commons) is an interactive web application designed to help clinicians and researchers discover genetic mutations that cause heart disease. CardioGX enables users to upload, explore and analyze de-identified data generated through genomic sequencing.
"The goal for developing the program is to make something easy to use for clinicians and researchers who are not as familiar with genomics databases," says Simon Lin, MD, MBA, chief research information officer at Nationwide Children's Hospital and leader of the CardioGX project. "Without a platform, clinicians don't have any way to open the variant call format files generated by sequencing. They get a PDF and a report from the lab, but it's not something that they can easily use to make clinical decisions if a specific disease-causing variant is not immediately described."
After performing whole genome or whole exome sequencing (WGS or WES), the lab provides a PDF of the sequencing data and a static report describing the analysis. Using CardioGX, users can access the variant call format (VCF) files generated through WGS and WES. Clinicians and researchers can then search for variants by filtering the patient's clinical data. CardioGX assesses in real time various existing public knowledgebases including Online Mendelian Inheritance in Man (OMIM), ClinVar, NCBI GeneRIFs and Mouse Genome Database.
Over time, new disease-causing variants may be discovered. However, if a clinician – cardiologist, geneticist or genetic counselor – wants to re-check a patient's sequence data against known variants associated with symptoms or phenotypes, they need to send the sequence back to the lab for additional analysis. This additional cost of time and money may delay life-changing care. Using CardioGX would enable clinicians to upload the sequence data and query, based on the patient's clinical features, databases for newly identified variants.
In cardiology, the use of genomic data to identify disease-causing variants is rapidly expanding as exome sequencing becomes more readily available.
Currently, cardiologists typically use candidate gene panel-based genetic testing. This technique looks for specific variants confirmed to be causative. These panels help to diagnose channelopathies such as long QT syndrome and catecholaminergic polymorphic ventricular tachycardia, and can aid in understanding the etiology of cardiomyopathy.
"As exome sequencing becomes more easily available, CardioGx is an easy-to-use tool for a cardiac clinician to examine exome sequencing data," says Vidu Garg, MD, director of the Center for Cardiovascular Research and a pediatric cardiologist in The Heart Center at Nationwide Children's Hospital. "But the results will need to be interpreted in conjunction with a geneticist and genetic counselor."
CardioGx has a unique discussion board to foster collaboration between users. By managing privacy settings in their individual accounts, users can build communities to collaborate with other clinicians and researchers to solve rare, complex genetic diseases of the heart.
"The phenotype-driven variant analysis supported by CardioGX enables users to identify disease-causing genes by comparing phenotypes with previously reported gene-disease associations," says Kim McBride, MD, MS, division chief of Genetics at Nationwide Children's Hospital. "And the results are fast."
The tool was developed by the Research Information Solutions and Innovation (RISI) R&D team in The Research Institute at Nationwide Children's and is freely available at cardiogx.org. Funding support from the American Heart Association Institute for Precision Cardiovascular Medicine made this project possible.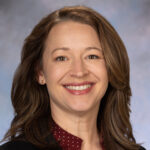 Abbie (Roth) Miller, MWC, is a passionate communicator of science. As the manager, medical and science content, at Nationwide Children's Hospital, she shares stories about innovative research and discovery with audiences ranging from parents to preeminent researchers and leaders. Before coming to Nationwide Children's, Abbie used her communication skills to engage audiences with a wide variety of science topics. She is a Medical Writer Certified®, credentialed by the American Medical Writers Association.
Abbie Miller

https://pediatricsnationwide.org/author/abbie-miller/

Abbie Miller

https://pediatricsnationwide.org/author/abbie-miller/

Abbie Miller

https://pediatricsnationwide.org/author/abbie-miller/

Abbie Miller

https://pediatricsnationwide.org/author/abbie-miller/