In Sight: Three Procedures, One Surgery
In Sight: Three Procedures, One Surgery
https://pediatricsnationwide.org/wp-content/uploads/2017/04/Three-Procedures-Graphic-header-crop.gif
388
320
Jeb Phillips
Jeb Phillips
https://pediatricsnationwide.org/wp-content/uploads/2021/03/Jeb-Phillips.jpg
Colorectal Surgery, Urology and Gynecology coordinate to save tissue and time.
A child with a complex colorectal and pelvic condition may require several surgeries over months or years before they are able to successfully manage their urine and stool. With advance planning and coordination it can be possible to treat many issues at once and conserve tissue. The Center for Colorectal and Pelvic Reconstruction at Nationwide Children's Hospital brings medical and surgical teams together for this very purpose.
Shown here is a representative collaboration: A 5-year-old girl presented with a dysfunctional sigmoid colon leading to fecal soiling, a small, overactive bladder resulting in urinary incontinence, and distal vaginal atresia (or absent lower vagina). In a single eight-hour operation colorectal, urological and gynecological surgeons used portions of the dysfunctional sigmoid colon to both augment the bladder and create a neovagina. Appendix tissue, meanwhile, became channels that both allowed for catheterization of the bladder and for flushing of the colon.
Image credits: Nationwide Children's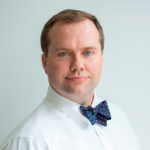 Jeb is the Managing Editor, Executive Communications, in the Department of Marketing and Public Relations at Nationwide Children's Hospital. He contributes feature stories and research news to PediatricsOnline, the hospital's electronic newsletter for physicians and other health care providers, and to Pediatrics Nationwide. He has served as a communications specialist at the Center for Injury Research and Policy at The Research Institute and came to Nationwide Children's after 14-year career as daily newspaper reporter, most recently at The Columbus Dispatch.
Jeb Phillips

https://pediatricsnationwide.org/author/jeb-phillips/

Jeb Phillips

https://pediatricsnationwide.org/author/jeb-phillips/

Jeb Phillips

https://pediatricsnationwide.org/author/jeb-phillips/

Jeb Phillips

https://pediatricsnationwide.org/author/jeb-phillips/