The Role of a Children's Hospital in Central Ohio's Biotech Boom
The Role of a Children's Hospital in Central Ohio's Biotech Boom
https://pediatricsnationwide.org/wp-content/uploads/2023/03/NCH_building_newlogo_0922.png
480
346
Lauren Dembeck and Natalie Wilson
Lauren Dembeck and Natalie Wilson
https://pediatricsnationwide.org/wp-content/uploads/2021/03/Dembeck_headshot.gif
Nationwide Children's Hospital is at the front of the pack among top National Institutes of Health (NIH) funded children's hospitals when it comes to developing novel gene therapies and commercializing intellectual property. Achieving this level of commercial activity is a testament to the organization's groundbreaking investments in infrastructure, unique approaches to engaging with industry and determination to bring transformative innovations in care to children everywhere.
The result? Technology transfer by Nationwide Children's has been a key driver of explosive life sciences industry growth in the region and attracted national attention. And there are no signs of the activity slowing down.
Over the past 20 years, central Ohio has matured into the Midwest's biotech hub, ranking among the nation's fastest-growing and most productive tech-focused areas. This growth has been nurtured by multidirectional relationships among the local community and governments, established companies, leading startups, venture capital funding firms, universities and research institutions. Nationwide Children's has been an integral leader in this flourishing life sciences ecosystem, creating jobs and attracting talent that drive innovation and investment in manufacturing in the region.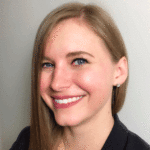 Lauren Dembeck, PhD, is a freelance science and medical writer based in New York City. She completed her BS in biology and BA in foreign languages at West Virginia University. Dr. Dembeck studied the genetic basis of natural variation in complex traits for her doctorate in genetics at North Carolina State University. She then conducted postdoctoral research on the formation and regulation of neuronal circuits at the Okinawa Institute of Science and Technology in Japan.
Marketing Strategist, Research Communications
Natalie is a passionate and enthusiastic writer working to highlight the groundbreaking research of the incredible faculty and staff across Nationwide Children's Hospital and the Abigail Wexner Research Institute. Her work at Nationwide Children's marries her past interests and experiences with her passion for helping children thrive and a long-held scientific curiosity that dates back to competing in the Jefferson Lab Science Bowl in middle school. Natalie holds a bachelor's degree in sociology from Wake Forest University, as well as minors in women's, gender & sexuality studies and interdisciplinary writing. As an undergraduate student, Natalie studied writing and journalism, engaged with anthropological and sociological research with a focus on race and ethnic relations, served as executive editor for the student newspaper, the Old Gold & Black, and gained marketing experience as an intern for a nonprofit entrepreneurial incubator, Winston Starts, as well as by working for Wake Forest University School of Law Office of Communication and Public Relations and its Innocence and Justice Clinic.