New Guidelines Offer a Clear Path for Expandable Endoprosthesis Use in Post-Sarcoma Limb Reconstruction
New Guidelines Offer a Clear Path for Expandable Endoprosthesis Use in Post-Sarcoma Limb Reconstruction
https://pediatricsnationwide.org/wp-content/themes/corpus/images/empty/thumbnail.jpg
150
150
Abbie Miller
Abbie Miller
https://pediatricsnationwide.org/wp-content/uploads/2023/05/051023BT016-Abbie-Crop.jpg
Limb salvage operation is the standard of care for pediatric extremity bone sarcomas. These tumors often occur during the second decade of life, when children are growing rapidly. Reconstructive surgeries must account for anticipated remaining growth and the potential for resulting limb inequity.
Osteosarcoma and Ewing sarcoma are the most common primary malignant bone tumors, occurring primarily in the metaphyseal region above the knee. A newer approach to limb salvage operations in this area of the limb is the noninvasive expandable endoprosthesis.
This approach offers a theoretical advantage of immediate weigh bearing, predictable function and reliable maintenance of leg length equality. These internal devices can be lengthened with magnets as the child grows to reduce the number of surgical procedures needed. In the past, multiple open procedures were required to achieve leg length equality.
The noninvasive expandable endoprosthesis is typically constructed of a cemented femoral stem or lateral plate, a magnet and gearbox, an extra small tibial implant and uncemented passive tibial stem. The specifics vary by manufacturer. "Our experience with these noninvasive implants shows that they can reliably achieve desirable outcomes," says Thomas Scharschmidt, MD, orthopedic surgeon at Nationwide Children's Hospital. "We achieve reliable leg-length equality, have longer failure-free survival and decreased complications."
To date, no standardized techniques exist for managing patients with noninvasive expandable implants from the time of limb reconstruction to skeletal maturity. To address this gap, orthopedic surgeons and oncologists have collaborated to publish their surgical techniques and guidelines in the Journal of the American Academy of Orthopaedic Surgeons.
The publication outlines contraindications, preoperative planning, and surgical techniques for placement, as well as postoperative care and management.
"Successful utilization of noninvasive expandable endoprostheses depends on a clear lengthening schedule and patient family commitment," says Dr. Scharschmidt, who was an author of the publication. "Ongoing physical therapy, adherence to the schedule and close follow up are crucial to reaping the benefits and preventing arthrofibrosis, pain and neuritis."
Depending on how old the child was at time of diagnosis and endoprosthesis implantation, there is a chance that they could outgrow the lengthening capabilities of the device.
"As the patient approaches the maximum extension for their implant, we need to have conversations with the family regarding options. We can wait and see, or we can go ahead with another surgery to implant a longer implant and new gearbox," says Dr. Scharschmidt. "If the child is expected to grow another 2 centimeters or more, we typically recommend replacing the device."
REFERENCE:
Voskuil RT, Miles DT, Scharschmidt TJ, Alexander JH. Noninvasive expandable endoprostheses from reconstruction to skeletal maturity: A surgical technique and lengthening guide. Journal of the American Academy of Orthopaedic Surgeons. 2021 Dec;29(23):998-1007.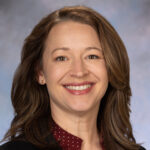 Abbie (Roth) Miller, MWC, is a passionate communicator of science. As the manager, medical and science content, at Nationwide Children's Hospital, she shares stories about innovative research and discovery with audiences ranging from parents to preeminent researchers and leaders. Before coming to Nationwide Children's, Abbie used her communication skills to engage audiences with a wide variety of science topics. She is a Medical Writer Certified®, credentialed by the American Medical Writers Association.
Abbie Miller

https://pediatricsnationwide.org/author/abbie-miller/

Abbie Miller

https://pediatricsnationwide.org/author/abbie-miller/

Abbie Miller

https://pediatricsnationwide.org/author/abbie-miller/

Abbie Miller

https://pediatricsnationwide.org/author/abbie-miller/