Cardiopulmonary Rehabilitation Post-COVID: Could Your Patient Benefit?
Cardiopulmonary Rehabilitation Post-COVID: Could Your Patient Benefit?
https://pediatricsnationwide.org/wp-content/uploads/2021/04/AdobeStock_27800430-1024x728.jpg
1024
728
Abbie Miller
Abbie Miller
https://pediatricsnationwide.org/wp-content/uploads/2023/05/051023BT016-Abbie-Crop.jpg
The road to recovery from COVID-19, the disease caused by SARS-CoV-2, is not always smooth, short or straight. For adults and children, long COVID, a condition where symptoms such as fatigue, headache and decreased respiratory function persist after the virus has "cleared" the body, can add increased stress and hardship. Additionally, even mild cases of COVID-19 can result in significant deconditioning of the body, making it difficult for patients to get back to their regular sports or activities.
At Nationwide Children's Hospital, experts in the Cardiopulmonary Rehabilitation Program have seen significant improvements in many post-COVID symptoms and comorbidities when patients participate in the multidisciplinary rehab program.
"Our Outpatient Cardiopulmonary Rehabilitation Program follows a multidisciplinary approach which aims to comprehensively treat the whole child," says Alpa Patel, MD, Cardiopulmonary Rehabilitation Program Director. "We've seen that this approach offers significant benefits to children and adolescents who have had COVID-19."
While enrolled in the program, patients can see physical and occupational therapy, exercise physiology, psychology, nutrition, recreational therapy and massage therapy.
Recently, the team reported improvements for patients who have had COVID in the following areas:
Decreased Anxiety and Stress, Improved Emotional Functioning [As referenced by PHQ9 Assessment]
Reduced need for supplemental oxygen [As referenced by Shortness of Breath Questionnaire]
Increased Endurance, Stamina, Drive and Physical Conditioning [As referenced by 6MW and Shuttle testing]
Improved performance of Activities of Daily Living and Strength development [As referenced by COPM and IADL scoring]
Patient Satisfaction and Quality of Life [As referenced by Patient Satisfaction Survey and Quality of Life Questionnaire]
Additionally, the team says that the Cardiopulmonary Rehabilitation Program has offered quality of life improvements beyond standard clinical measures.
We've had patients report decreased anxiety about leaving the house and returning to both; their daily and extracurricular activities, say Cardiopulmonary Rehabilitation Program Co-Coordinators, Amanda Truex, MHA, RRT, RCP and Lindsey Cook, RRT, RCP, AE-C. They're more comfortable walking up and down stairs, taking showers and performing other activities that were otherwise taken for granted before COVID.
While COVID-19 is to blame for the symptoms, the pandemic may also earn some credit in expanding treatment options.
"During the height of the pandemic, we learned that offering cardiopulmonary rehabilitation, including PT and OT via telemedicine was both viable and effective," says Alpa Patel, MD. "Our experience with telemedicine allows us to offer services to patients who may be facing various barriers to treatment or may might live in areas where such therapy is not readily accessible."
Image credit: Adobe Stock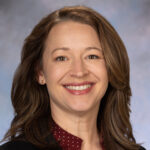 Abbie (Roth) Miller, MWC, is a passionate communicator of science. As the manager, medical and science content, at Nationwide Children's Hospital, she shares stories about innovative research and discovery with audiences ranging from parents to preeminent researchers and leaders. Before coming to Nationwide Children's, Abbie used her communication skills to engage audiences with a wide variety of science topics. She is a Medical Writer Certified®, credentialed by the American Medical Writers Association.
Abbie Miller

https://pediatricsnationwide.org/author/abbie-miller/

Abbie Miller

https://pediatricsnationwide.org/author/abbie-miller/

Abbie Miller

https://pediatricsnationwide.org/author/abbie-miller/

Abbie Miller

https://pediatricsnationwide.org/author/abbie-miller/