Improving Neuro-Critical Care Outcomes for Children in Sub-Saharan Africa
Improving Neuro-Critical Care Outcomes for Children in Sub-Saharan Africa
https://pediatricsnationwide.org/wp-content/uploads/2021/12/NO2-1024x683.jpg
1024
683
Abbie Miller
Abbie Miller
https://pediatricsnationwide.org/wp-content/uploads/2023/05/051023BT016-Abbie-Crop.jpg
Nicole O'Brien, MD, is working with health experts in sub-Saharan Africa to develop Centers of Excellence for the use of transcranial doppler ultrasound (TCD).
The first time Nicole O'Brien went to Africa, she was not a doctor. In her words, she "wasn't even close to medical." She was staying in a small rural village and quickly became friends with her neighbors – especially their two small children. When the youngest child was unresponsive one morning, Nicole embarked on a 20-hour journey to help take the sick child to the nearest medical center. Through steep hills with the child tied to her back, down the muddy roads that mired their jeep, across a river with a single pontoon ferry, to the long lines of a clinic, it was a journey that left its mark.
Now, Nicole O'Brien, MD, has made it her life's work to research, develop and deliver care that will change the lives of children who also might face that daunting journey to treatment.
____
Each year, half a million children die of a preventable and treatable illness in sub-Saharan Africa. Malaria has killed more people than any other disease. Last year, there were 240 million cases and 450,000 deaths. Cerebral malaria, which is the most severe form, has the highest mortality. However, with adequate care and treatment, children can make full recoveries.
Children in sub-Saharan Africa also experience the greatest incidence of sickle cell disease (SCD) in the world. More than 300,000 babies are born with SCD each year – and 75% of them are in sub-Saharan Africa. For people with SCD in sub-Saharan Africa, the prevalence of stroke is about 4%, according to a 2021 report in Nature Reviews Neurology. Most strokes in individuals with SCD occur before age..
Transcranial doppler (TCD) is a painless, noninvasive test that uses ultrasound waves to measure blood flow in the brain. It can be used to detect stroke, vasospasms, hemorrhages, blood clots and more. And for children in sub-Saharan Africa who have cerebral malaria and/or SCD, it might be a game-changer.
Nicole O'Brien, MD, is a critical care physician at Nationwide Children's Hospital, where she directs neuro-critical care and directed the Global Health Certificate Program from 2009-2020. But for half of the year, she and her family live and work in Africa to expand the use of TCD and develop programs and protocols aimed to improve the neurological outcomes of children.
She is currently working to set up six National Institutes of Health (NIH)-funded Centers of Excellence for TCD use in children. The centers are located in the Democratic Republic of Congo (DRC; 3 sites), Zambia (2 sites) and Malawi (1 site). These Centers are designed to be a hub for TCD resources, knowledge and education. Staff on-site are trained to use the TCD technology and to interpret the results to drive treatment decisions for patients there. The Centers also offer additional opportunities for clinical research.
"When I was working in the Democratic Republic of Congo during my [2015] Fulbright scholarship, I started using TCD to try to figure out what was happening in cerebral malaria," says Dr. O'Brien. "In 2018, I was fortunate to be awarded and ancillary R01 from the National Institutes of Health to continue the work, which is ongoing in Malawi and DRC."
In 2018, Dr. O'Brien published the first paper from her work with TCD and cerebral malaria in The Journal of Pediatrics. In the paper, Dr. O'Brien describes five different cerebral malaria phenotypes, which were all observable with TCD. The different phenotypes were associated with distinct neurologic outcomes.  "The goal is to use TCD to individualize treatment, to make sure that we are treating and preventing brain injury in addition to treating the patient with anti-malaria drugs."
Now, through additional grant funding, Dr. O'Brien is launching a study to understand how TCD can help reduce strokes in children with SCD. Pediatric studies done in the United States have shown that monitoring blood flow in the brain can help detect strokes early and even prevent them. Those studies have helped to establish guidelines and threshold values for interventions, leading to improved outcomes.
"For our pediatric patients in Africa, we are going to study the cutoff values for stroke risk as our starting point," Dr. O'Brien says. "I suspect that we will find different values that indicate different risks than what we see in children in the United States."
Once they have these cut-off values and a better understanding of baseline measurements in relationship to risk, Dr. O'Brien says they can look at what available treatments seem most supportive – and tackle the issue of how to make those treatments more accessible.
References:
Akinyemi RO, Ovbiagele B, Adeniji OA, Sarfo FS, Abd-Allah F, Adoukonou T, Ogah OS, Damasceno A, Walker RW, Ogunniyi A, Kalaria RN, Owolabi MO. Stroke in Africa: profile, progress, prospects and priorities. Nature Reviews Neurology. 2021 Sep15;17:634-656.
O'Brien NF, Taty TM, Moore-Clingenpeel M, Mabiala JB, Pongo JM, Musungufu DA, Uchama M, Yotebieng M. Transcranial doppler ultrasonography provides insights into neurovascular changes in children with cerebral malaria. Journal of Pediatrics. 2018 Dec;203:116-124.e3.
Photos courtesy of Nicole O'Brien
Natalie Wilson contributed to this article.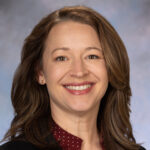 Abbie (Roth) Miller, MWC, is a passionate communicator of science. As the manager, medical and science content, at Nationwide Children's Hospital, she shares stories about innovative research and discovery with audiences ranging from parents to preeminent researchers and leaders. Before coming to Nationwide Children's, Abbie used her communication skills to engage audiences with a wide variety of science topics. She is a Medical Writer Certified®, credentialed by the American Medical Writers Association.
Abbie Miller

https://pediatricsnationwide.org/author/abbie-miller/

Abbie Miller

https://pediatricsnationwide.org/author/abbie-miller/

Abbie Miller

https://pediatricsnationwide.org/author/abbie-miller/

Abbie Miller

https://pediatricsnationwide.org/author/abbie-miller/