Gene Therapy Rescues Phenotype in Preclinical Model for Limb Girdle Muscular Dystrophy 2A/R1
Gene Therapy Rescues Phenotype in Preclinical Model for Limb Girdle Muscular Dystrophy 2A/R1
https://pediatricsnationwide.org/wp-content/uploads/2021/02/AdobeStock_134232290-DNA-header-1024x575.gif
1024
575
Abbie Miller
Abbie Miller
https://pediatricsnationwide.org/wp-content/uploads/2023/05/051023BT016-Abbie-Crop.jpg
Replacement of CAPN3 gene via AAV-mediated gene therapy resulted in significant, robust improvements in functional outcomes and muscle physiology in the preclinical model.
LGMDs are a rare form of muscular dystrophy for which there is no treatment. As a heterogenous group caused by a number of mutations, the complexity of classification makes the disease challenging to understand. Additionally, the prevalence is varied among its varied forms. The National Organization for Rare Disorders (NORD) estimates the prevalence for LGGMD ranging from 1 in 14,500 to 1 in 123,000.
Limb girdle muscular dystrophy (LGMD) 2A/R1 is caused by mutations in the CAPN3 gene that result in a loss of CAPN3 protein function.
In a recent publication in Molecular Therapy Methods & Clinical Development, researchers from the Center for Gene Therapy in the Abigail Wexner Research Institute at Nationwide Children's Hospital highlight a traditional gene therapy approach showing a stepwise process that will enable clinical testing. The approach uses the AAV mediated vector AAVrh74.tMCK.hCAPN3.
"We first showed efficacy by injecting the gene directly into the muscle of our model," says Zarife Sahenk, MD, PhD, lead author of the study, neurologist and principal investigator in the Center for Gene Therapy. "Four weeks after delivery we saw that the CAPN3 protein was present and muscle size was increased, indicating successful delivery and translation of the injected gene."
The direct to muscle injection showed no toxicity, laying the groundwork for systemic vascular delivery. Dr. Sahenk and her team used two doses in the systemic experiments: 3×1012 vg (low) and 6×1012 vg (high). The two doses were tested in two age groups with both male and female models.
"In both low and high titer doses, and in both age groups and sexes, we did not see any evidence of toxicity," says Jerry Mendell, MD, senior author of the study and principal investigator in the Center for Gene Therapy. "Some investigators in the field have been particularly concerned about cardiac complications, but our experiments showed no sign of that."
Twenty weeks after systemic delivery, efficacy was tested using functional (treadmill), physiological (in vivo muscle contractility assay) and histopathological outcomes. The gene therapy resulted in significant, robust improvements at both low and high doses and in both age groups.
These preclinical studies have laid the important groundwork for future clinical trials. Drs. Sahenk and Mendell say that efficacy and safety clinical trials could be on the horizon.
"We are very proud of this work, and this publication," says Dr. Sahenk. "This is a great example of taking an ideal animal model, and exploratory experimental trial by intramuscular delivery, and building to a preclinical model with systemic gene delivery that is clinically relevant. This is what we teach our students, fellows and colleagues as the template for translational clinical science."
Sarepta Therapeutics, a commercial-stage biopharmaceutical company focused on the discovery and development of gene therapies and unique RNA-targeted therapeutics for the treatment of rare neuromuscular disease, has licensed the technology and will be the sponsor of any upcoming clinical trials of the therapy.
Reference:
Sahenk Z, Ozes B, Murrey D, Myers M, Moss K, Yalvac ME, Ridgley A, Chen L, Mendell JR. Systemic delivery of AAVrh74.tMCK.hCAPN3 rescues the phenotype in a mouse model for LGMD2A/R1.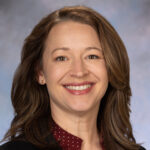 Abbie (Roth) Miller, MWC, is a passionate communicator of science. As the manager, medical and science content, at Nationwide Children's Hospital, she shares stories about innovative research and discovery with audiences ranging from parents to preeminent researchers and leaders. Before coming to Nationwide Children's, Abbie used her communication skills to engage audiences with a wide variety of science topics. She is a Medical Writer Certified®, credentialed by the American Medical Writers Association.
Abbie Miller

https://pediatricsnationwide.org/author/abbie-miller/

Abbie Miller

https://pediatricsnationwide.org/author/abbie-miller/

Abbie Miller

https://pediatricsnationwide.org/author/abbie-miller/

Abbie Miller

https://pediatricsnationwide.org/author/abbie-miller/