Additions to Neuro-Oncology Team Bring CONNECT Consortium to Nationwide Children's
Additions to Neuro-Oncology Team Bring CONNECT Consortium to Nationwide Children's
https://pediatricsnationwide.org/wp-content/uploads/2021/01/AdobeStock_82959563_brain-imaging-for-web-1024x575.gif
1024
575
Abbie Miller
Abbie Miller
https://pediatricsnationwide.org/wp-content/uploads/2023/05/051023BT016-Abbie-Crop.jpg
Maryam Fouladi, MD, has been named the co-executive director of the Pediatric Neuro-Oncology Program at Nationwide Children's Hospital and Rachid Drissi, PhD, will join the Center for Childhood Cancer and Blood Diseases in the Abigail Wexner Research Institute as a principal investigator focused on cellular aging and telomerase inhibitors to suppress brain tumor growth in children.
Dr. Fouladi will continue her extensive work on brain stem gliomas (DIPG) at Nationwide Children's alongside Jeffrey Leonard, MD, co-executive director of the Pediatric Neuro-Oncology Program and chief of Neurosurgery at Nationwide Children's.
"Dr. Fouladi and Dr. Drissi are an incredible team and have a strong sense of purpose and vision to find cures for children with brain tumors," said Timothy Cripe, MD, PhD, division chief of Hematology, Oncology and Blood & Marrow Transplant at Nationwide Children's. "Alongside Dr. Leonard, we truly have one of the most dynamic pediatric neuro-oncology programs in the world."
Dr. Fouladi will replace Jonathan Finlay, MB, who is stepping down as co-executive director. Dr. Finlay will continue his work at co-investigator for the Head Start IV trial he is conducting through Nationwide Children's Hospital's NEXT Consortium.
With Dr. Fouladi's arrival, Nationwide Children's will become home to the CONNECT consortium. Dr. Fouladi is the founding director of CONNECT, an international consortium that works to develop and test novel therapies in early phase clinical trials.
"The mission of CONNECT is to provide access to cutting edge international trials, incorporating promising preclinical agents into the most effective regimens for pediatric brain tumors, by building global partnerships among sites, industry partners and foundations," says Dr. Fouladi. "When we do these things, we change pediatric brain tumor outcomes for children around the world."
CONNECT currently has more than five international trials open or in development. Additionally, the consortium has about six preclinical studies ongoing.
"Between CONNECT and NEXT, Nationwide Children's Clinical Research Operations will be supporting a wide range of protocols, that will allow our neuro-oncology patients to have access to early phase clinical trials that focus on new therapeutic agents, treatment delivery technologies and radiation treatment strategies," says Myeshia Harmon, MHA, CCRP, director of Clinical Research Operations for Hematology, Oncology, & BMT. "These studies compliment the studies that are already in process for children under 10 with brain tumors and patients that suffer from recurrent or progressive germ cell tumors. This robust portfolio ensures that we can offer the best tour patients while supporting our institutional vision to provide the best outcomes for kids everywhere through pre-eminent research and clinical programs."
Dr. Fouladi, who also is a professor of Pediatrics at The Ohio State University College of Medicine, is the founding chair of The International Diffuse Intrinsic Pontine Glioma (DIPG) and Diffuse Midline Glioma (DMG) registries. In addition to serving as the chairs of the Collaborative Network for Neuro-Oncology Clinical Trials and CNS Committee of the Children's Oncology Group, Dr. Fouladi has authored or co-authored more than 140 peer-reviewed publications.
Dr. Drissi previously was the director of the Brain Tumor Center Translational Research Laboratory and Associate Professor in the University of Cincinnati Department of Pediatrics. He earned his master's degree in organic chemistry from the University of Rouen followed by a master's degree in biochemistry and his PhD in molecular biology from the University of Paris VI.
Image credit: Adobe Stock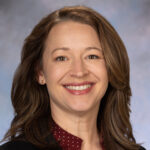 Abbie (Roth) Miller, MWC, is a passionate communicator of science. As the manager, medical and science content, at Nationwide Children's Hospital, she shares stories about innovative research and discovery with audiences ranging from parents to preeminent researchers and leaders. Before coming to Nationwide Children's, Abbie used her communication skills to engage audiences with a wide variety of science topics. She is a Medical Writer Certified®, credentialed by the American Medical Writers Association.
Abbie Miller

https://pediatricsnationwide.org/author/abbie-miller/

Abbie Miller

https://pediatricsnationwide.org/author/abbie-miller/

Abbie Miller

https://pediatricsnationwide.org/author/abbie-miller/

Abbie Miller

https://pediatricsnationwide.org/author/abbie-miller/