Reducing Asthma-Related Emergency Department Visits
Reducing Asthma-Related Emergency Department Visits
https://pediatricsnationwide.org/wp-content/uploads/2019/04/iStock_000001058404Large.jpg
480
320
Abbie Miller
Abbie Miller
https://pediatricsnationwide.org/wp-content/uploads/2023/05/051023BT016-Abbie-Crop.jpg
Through serial interventions and teamwork, the initiative reduced asthma-related ED utilization rates by nearly 4% per year at a time when national rates were rising.
Numerous studies have demonstrated that quality improvement (QI) methodologies improve asthma outcomes. However, moving that success from individual patients to a large population is challenging. In a recent study published in Academic Pediatrics, clinicians and researchers from Nationwide Children's Hospital and Partners For KidsSM, one of the country's oldest and largest pediatric accountable care organizations (ACO), worked together to use QI-methodology to reduce asthma-related emergency department (ED) utilization across a large urban network.
"Asthma affects more than 1 in 12 children, and it is one of the most common reasons for pediatric emergency room visits and hospitalizations. We know that good preventive care and early treatment of flares can protect our patients from severe episodes of difficulty breathing that lead them to seek help in the emergency department," says Elizabeth Allen, MD, pulmonologist and lead physician for the Nationwide Children's Keep Me Well Asthma Quality Improvement Initiative. She is also associate professor of Clinical Pediatrics at The Ohio State University College of Medicine. "Recognizing this, in 2010, Nationwide Children's made improving the health of children with asthma one of its top quality improvement priorities."
The team used multiple evidence-based interventions to address various levels of general pediatric asthma care and high health care utilizers. They analyzed the annual asthma ED and inpatient utilization rates of 2- to 18-year-old members of the ACO living in the surrounding county and compared them to national rates from 2006 to 2014.
"Providing consistent, evidence-based care for all patients with asthma, including more intensive interventions for families and patients who struggle with their asthma management, can have a measurable positive impact on their health," says Richard J. Brilli, MD, chief medical officer at Nationwide Children's and professor of Pediatrics at Ohio State. "Achieving this in the 'real world' – including busy primary care offices – requires teamwork across specialties and professions."
Through serial interventions and teamwork, the quality improvement initiative was able to reduce asthma-related ED utilization rates by an average of 3.9% per year from 2008 to 2016. The ACO's asthma ED utilization rates fell from 18.1 visits per 1,000 children to 12.9 visits per 1,000 children at a time when national rates were rising.
The team continues to optimize patient care by leveraging electronic medical record support, providing family education, expanding the school-based asthma program and investing in innovative approaches such as predictive analytics to help identify (and help) the most at-risk children.
Reference:
Allen ED, Montgomery T, Ayres G, Cooper J, Gillespie J, Gleeson SP, Groner J, Hersey S, McGwire G, Rowe C, Snyder D, Stukus D, Stukus KS, Timan C, Wegener N, Brilli RJ. Quality Improvement-Driven Reduction in Countywide Medicaid Acute Asthma Health Care Utilization. Academic Pediatrics. 2019 Mar;19(2):216-226.
Photo credit: Adobe Stock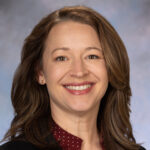 Abbie (Roth) Miller, MWC, is a passionate communicator of science. As the manager, medical and science content, at Nationwide Children's Hospital, she shares stories about innovative research and discovery with audiences ranging from parents to preeminent researchers and leaders. Before coming to Nationwide Children's, Abbie used her communication skills to engage audiences with a wide variety of science topics. She is a Medical Writer Certified®, credentialed by the American Medical Writers Association.
Abbie Miller

https://pediatricsnationwide.org/author/abbie-miller/

Abbie Miller

https://pediatricsnationwide.org/author/abbie-miller/

Abbie Miller

https://pediatricsnationwide.org/author/abbie-miller/

Abbie Miller

https://pediatricsnationwide.org/author/abbie-miller/