Percutaneous Occlusion Linked to Respiratory Improvements in Low-Weight Infants with PDA
Percutaneous Occlusion Linked to Respiratory Improvements in Low-Weight Infants with PDA
https://pediatricsnationwide.org/wp-content/uploads/2021/02/022812ds391HRBW_NICU-for-web-header-1024x575.gif
1024
575
Abbie Miller
Abbie Miller
https://pediatricsnationwide.org/wp-content/uploads/2023/05/051023BT016-Abbie-Crop.jpg
Percutaneous occlusion for patent ductus arteriosus (PDA) in infants weighing less than 6 kg is associated with potential longer term improvements in respiratory health, research by investigators at Nationwide Children's Hospital shows.
"A new device for PDA closure recently approved by the FDA has potential to reduce the incidence of device-related complications. This important work by Dr. Berman and Dr. Backes indicates a need for additional study and identification of additional therapeutic options to avoid complications for premature infants with PDA," says Catherine Krawezski, MD, chief of Cardiology and co-director of The Heart Center at Nationwide Children's.
At the same time, the procedure is associated with risks of device-related complications and, particularly among infants weighing less than 3 kg, adverse cardiopulmonary outcomes, according to the study published in The Journal of Pediatrics.
"We've used catheter-based PDA closure on infants who have not spontaneously closed their PDA beyond the first 30 days of life and who continued to have evidence of potential complications related to an open ductus," says Carl H. Backes, Jr., MD, attending neonatologist and attending cardiologist at Nationwide Children's and co-author of the study. "But fundamental questions of the appropriate use of the procedure remain."
The retrospective study analyzed the medical records of 92 infants who had a PDA closure device implanted while being treated in The Heart Center at Nationwide Children's Hospital from 2003 to 2017.
Pulmonary outcomes were quantified using a composite pulmonary score based on weighted clinical therapies, including type (mechanical ventilation, continuous positive airway pressure or nasal cannula), need for supplemental oxygen and pulmonary medications (systemic steroids, diuretics). A lower score indicates respiratory improvement.
Scores were calculated weekly for 28 weeks. By then, the mean score for the cohort dropped more than 50% from the pre-procedural mean.
The procedure was successful in all but two infants. In those who underwent successful device closure, post-procedural echocardiograms indicated mild left pulmonary artery obstruction in 20 infants and mild descending aorta obstruction in seven immediately following device implantation. The numbers dropped to three and four infants respectively by discharge. Infant age and weight were not associated with the device-related complications. No patient required reintervention for these findings.
Among infants weighing less than 3 kg, the rate of oxygenation failure was 28% and rate of decreased left ventricular systolic function (LVSF) was 29%; among infants weighing 3 and 5.9 kilograms, the failure rate was 8% and LVSF 5%.
"The low but real device-related complications identified in this study underscore the need for continued device development," says Darren Berman, MD, co-director of Cardiac Catheterization and Interventional Therapies in The Heart Center at Nationwide Children's, and study co-author. "In fact, a newer device, just recently FDA approved, will help reduce the incidence of device-related complications significantly."
He and the rest of the authors call for clinical trials comparing percutaneous occlusion to alternatives in order to definitively determine risks and best practices.
Reference:
Nealon E, Rivera BK, Cua CL, Ball Mk, Stiver C, Boe BA, Slaughter JL, Chisolm J, Smith CV, Cooper JN, Armstrong AK, Berman DP, Backes CH. Follow-up after Percutaneous Patent Ductus Arteriosus Occlusion in Lower Weight Infants. The Journal of Pediatrics. 2019 Sep;212:144-150.e3.
Image credit: Nationwide Children's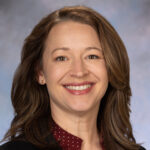 Abbie (Roth) Miller, MWC, is a passionate communicator of science. As the manager, medical and science content, at Nationwide Children's Hospital, she shares stories about innovative research and discovery with audiences ranging from parents to preeminent researchers and leaders. Before coming to Nationwide Children's, Abbie used her communication skills to engage audiences with a wide variety of science topics. She is a Medical Writer Certified®, credentialed by the American Medical Writers Association.
Abbie Miller

https://pediatricsnationwide.org/author/abbie-miller/

Abbie Miller

https://pediatricsnationwide.org/author/abbie-miller/

Abbie Miller

https://pediatricsnationwide.org/author/abbie-miller/

Abbie Miller

https://pediatricsnationwide.org/author/abbie-miller/