A Heart in Three Dimensions
A Heart in Three Dimensions
https://pediatricsnationwide.org/wp-content/uploads/2018/03/021918BS0077G_Heart-Model-HEADER-FOR-WEB-1024x575.gif
1024
575
Abbie Miller
Abbie Miller
https://pediatricsnationwide.org/wp-content/uploads/2023/05/051023BT016-Abbie-Crop.jpg
The 3D Printing Lab at Nationwide Children's Hospital provides comprehensive patient-specific treatment planning and device development services from a pediatric perspective.
The tiny heart pictured above is just one of the many 3D printed models created by the 3D Printing Team at Nationwide Children's. It represents one of the many helped by the technology and expertise that reside there.
In the 3D Printing Lab, which is part of the Pediatric Advanced Imaging Resource in the Department of Radiology at Nationwide Children's, a team of physicians, image analysts, digital modelers, coordinators and others translate computed tomography (CT) scans and magnetic resonance imaging (MRI) scans into models. The team develops both computer models and 3D printed models, which are used for presurgical planning, education and research.
3D-printed pelvic anatomy using different colors and textures in a single print
3D-printed brain with tumor
Three hearts, printed using different techniques
"Many institutions utilize 3D printing from a third party vendor, or focus its use for one specific surgical application. We can provide solutions for a variety of pediatric conditions, encompassing several specialties. We do this in-house with a team that has extensive expertise and track record, and in a location that is convenient for all Nationwide Children's physicians," says Jayanthi Parthasarathy, BDS, MS, PhD, manager of 3D Printing. Dr. Parthasarathy, a dental surgeon by background, has a PhD in Industrial and Manufacturing Engineering and has extensive experience in material composition specifically related to 3D printing.
The team uses a CONNEX-3 OBJET 350 3D printer, in addition to a full complement of image processing and 3D modeling and printing software to convert 2D CT and MRI images to 3D physical models. The high-quality printer is capable of 16-micron layers. Multicolor and multi-material capabilities allow for variation of material properties within a single print, depending on the needs of the given application.
"The resolution of the printer is greater than the resolution of a CT scan. Utilizing our models, surgeons can plan surgeries, educate junior faculty and even educate the patient and family about the condition," Dr. Parthasarathy says.
Dr. Parthasarathy and her team work with the surgeons to talk through what they want and need to see with the models. Those discussions inform the textures, rigidities, colors and sections used when printing the models.
By having the 3D printing lab in-house, surgeons are able to make the most of the tool. In addition to close collaboration, an in-house team gives the benefit of time.
"You don't want so much time to elapse that the child grows between the imaging and model creation and the surgery," explains Dr. Parthasarathy. "This is also true to tumors. You want to have everything as close together as possible so that the model is accurate when the surgeon begins to cut."
The 3D Printing Lab has provided services for neurosurgery, orthopedic surgery, the Center for Colorectal and Pelvic Reconstruction and the Center for Complex Craniofacial Disorders.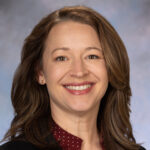 Abbie (Roth) Miller, MWC, is a passionate communicator of science. As the manager, medical and science content, at Nationwide Children's Hospital, she shares stories about innovative research and discovery with audiences ranging from parents to preeminent researchers and leaders. Before coming to Nationwide Children's, Abbie used her communication skills to engage audiences with a wide variety of science topics. She is a Medical Writer Certified®, credentialed by the American Medical Writers Association.
Abbie Miller

https://pediatricsnationwide.org/author/abbie-miller/

Abbie Miller

https://pediatricsnationwide.org/author/abbie-miller/

Abbie Miller

https://pediatricsnationwide.org/author/abbie-miller/

Abbie Miller

https://pediatricsnationwide.org/author/abbie-miller/