HIV in the Millennial World
HIV in the Millennial World
https://pediatricsnationwide.org/wp-content/themes/corpus/images/empty/thumbnail.jpg
150
150
Abbie Miller
Abbie Miller
https://pediatricsnationwide.org/wp-content/uploads/2023/05/051023BT016-Abbie-Crop.jpg
Adolescents and young adults ages 13 to 24 comprise an increasingly large proportion of new HIV infections in the United States.
A new generation of youth is experiencing increasing rates of HIV transmission, and data from the Centers for Disease Control and Prevention (CDC) indicate half of those infected youth (ages 13-24) don't even know it. Despite advances in both the social and medical landscape of HIV and AIDS, stigma and gaps in education exist. And the combination of a general lack of awareness and the stigma associated with HIV risk factors and testing is deadly.
"It's not even on young people's radar," explains Carlos Malvestutto, MD, MPH, medical director of the Family AIDS Clinic and Education Services (FACES) program at Nationwide Children's Hospital. "They didn't live through the 1980s and 1990s. They haven't lost anyone to AIDS. And no one is talking about it."
According to the CDC, in 2010, youth (adolescents and young adults aged 13 to 24) made up 17 percent of the U.S. population but 26 percent of all new HIV infections. Additionally, in keeping with historical trends, gay and bisexual males are disproportionately represented in the number of new cases of HIV. Gay and bisexual males accounted for 72 percent of new HIV infections among youth in 2010.
Since 2006, the CDC has recommended that HIV testing be offered as universal opt-out testing for people aged 13 to 65, regardless of risk, in any health care setting. This approach would eliminate the stigma surrounding HIV testing and make it part of routine health care. However, for the most part, this isn't happening.
According to Dr. Malvestutto, even at-risk populations aren't offered HIV tests when they seek care. "Physicians, as a rule, are not good about talking about risk factors for HIV, hepatitis C and sexually transmitted infections," he says. "Patients in the 13 to 24 age range may still be coming in for well visits or at least Emergency Department visits. We should be asking about their risk factors — IV drug use, sexual orientation and sexual activity — during regular well visits. And regardless of risk factors, we should be offering routine HIV testing both in outpatient office visits and in Emergency Department visits."
For people who are at high risk for exposure to HIV, pre-exposure prophylaxis (PrEP) can be prescribed to radically reduce their risk of acquiring the virus. But in addition to not understanding their risk, most at-risk individuals don't know about the medication.
Education and awareness are critical. "We find that when the patients with the highest amount of risk find out about PrEP, they are the most compliant in taking it," Dr. Malvestutto says.
When an individual might have been exposed recently to HIV during a specific situation, post-exposure prophylaxis (PEP) can be started immediately to prevent him or her from becoming HIV positive. PEP has been used routinely in the health care setting in cases of accidental needle sticks by health care workers or sexual assault.
"Many people don't know that if they think they might have been exposed to HIV — whether it was through needle sharing or unprotected sex — they can go to an Emergency Department and ask for PEP," says Dr. Malvestutto. "The key is getting there as soon as possible. The sooner PEP is started, the more effective it is.  After 72 hours from exposure, there's nothing we can do but offer you an HIV test."
Connecting people who are at risk for HIV infection to care also ensures they are able to receive prompt access to antiretroviral treatment (ART) if they do become infected. Current ART options are potent and safe with minimal side effects. Several ART regimens are also available in single tablet combinations and make it much easier for patients to remain adherent with life-long treatment and maintain long-term viral suppression.
Viral loads tend to be highest in newly infected patients, making it more likely they will spread the virus to others during early infection. This is the crux of the problem with HIV transmission rates in youth. Young people are getting infected when they do not understand their risk. Then, they aren't tested, which delays treatment and spreads the virus.
Fully suppressing the viral load through antiretroviral treatment not only provides direct benefits for the patient's immediate and long-term health, but it also prevents the patient from spreading the virus to others.
"Treatment is prevention. Once a person begins treatment for HIV, we are able to reduce his or her viral load to undetectable levels," says Dr. Malvestutto. "If a person has an undetectable viral load there is, at most, a 4 percent chance that he or she will infect someone else."
In a PARTNER study published in 2011, researchers found only one case of HIV transmission between an infected and uninfected partner when the infected partner had an undetectable viral load. Currently, the study is addressing this question again, with a much larger sample size. And according to early reports in 2014, no one with an undetectable viral load transmitted the virus during the first two years of the study.
These results are amazing, but their impact hinges on diagnosis and treatment. Without implementation of destigmatized, regular HIV testing and better education for youth about their risk factors and the preventative measures available, this virus will continue to spread.
To stop HIV from continuing to spread, the call to action is clear, according to Dr. Malvestutto. "We need to do a better job with testing and prevention," he says. "We need to talk about sexual risk and offer HIV tests to everyone to eliminate the stigma around the test.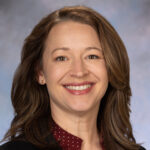 Abbie (Roth) Miller, MWC, is a passionate communicator of science. As the manager, medical and science content, at Nationwide Children's Hospital, she shares stories about innovative research and discovery with audiences ranging from parents to preeminent researchers and leaders. Before coming to Nationwide Children's, Abbie used her communication skills to engage audiences with a wide variety of science topics. She is a Medical Writer Certified®, credentialed by the American Medical Writers Association.
Abbie Miller

https://pediatricsnationwide.org/author/abbie-miller/

Abbie Miller

https://pediatricsnationwide.org/author/abbie-miller/

Abbie Miller

https://pediatricsnationwide.org/author/abbie-miller/

Abbie Miller

https://pediatricsnationwide.org/author/abbie-miller/