A New Take on Obesity Prevention: The Maternal-Child Relationship
A New Take on Obesity Prevention: The Maternal-Child Relationship
https://pediatricsnationwide.org/wp-content/themes/corpus/images/empty/thumbnail.jpg
150
150
Tiasha Letostak, PhD
Tiasha Letostak, PhD
https://pediatricsnationwide.org/wp-content/uploads/2021/03/Tiasha-Letostak.jpg
In the past 30 years, obesity has quadrupled in adolescents and more than doubled in children, affecting even preschool-aged children. The majority of childhood obesity prevention strategies focus on energy balance, targeting behaviors and environmental changes to increase physical activity, decrease sedentary behavior or limit intake of energy-dense foods and beverages. However, the limited success of these strategies has led some researchers to consider novel risk factors for obesity in children. A new analysis from a national longitudinal study supports the idea that early relationships between mothers and their children could have long-term implications for children's weight.
"Infancy and early childhood are critical periods for the development of stress responses, and the same areas of the brain that govern energy balance are also involved with emotion regulation and stress response," says Sarah E. Anderson, PhD, associate professor of epidemiology in the College of Public Health at The Ohio State University and lead author of the recent Pediatrics study. "For these reasons, our research team was interested in whether the emotional quality of early maternal-child relationships could impact childhood obesity."
Dr. Anderson and her team analyzed data from 977 of 1364 participants in the Study of Early Child Care and Youth Development (SECCYD), a four-phase, multi-site, prospective, longitudinal study from the National Institute of Child Health and Development. The SECCYD enrolled families with a healthy infant born in 1991 from 10 sites across the United States and is a comprehensive study designed to examine the relationships between child development and child care from infancy to adolescence.
"At 15, 24, and 36 months of age, child attachment security and maternal sensitivity were assessed by direct observation of mother-child interaction," explains Dr. Anderson, whose research focuses on understanding psychosocial influences of children's growth and development, with a particular emphasis on childhood obesity. "We combined information from these assessments to characterize the quality of the early maternal-child relationship and defined a poor-quality maternal-child relationship as one in which the mother repeatedly displayed low levels of sensitivity toward the child and the child was insecurely attached."
The SECCYD assessed children at regular intervals and the study protocol included measurements of children's height and weight. The prevalence of adolescent obesity, assessed at a mean age of 15 years, was 16.5 percent overall.
Study results demonstrated that children who experienced poor-quality early relationships with their mothers had a greater risk of obesity in adolescence. The prevalence of obesity in adolescence was 26.1 percent among children who experienced poor early maternal-child relationships. Children who experienced poor quality relationships with their mothers in early childhood had odds of obesity as adolescents that were more than twice as high compared with those with better relationships.
Obesity is a complex condition and the high prevalence of obesity in children in the United States is a result of multiple causes. Solutions to the public health problem of obesity must take many forms. These findings suggest that approaches to childhood obesity prevention that do not focus directly on energy balance should be evaluated. Interventions can be effective in increasing maternal sensitivity and enhancing attachment security in young children, improving their ability to regulate their emotions.
"In the current environment, in which calories are abundant, preventing obesity is a significant challenge and should begin early in life," says Dr. Anderson. "Sensitive parenting increases the likelihood that a child will have a secure pattern of attachment and will develop a healthy response to stress, thereby improving the child's ability to regulate emotions and behaviors that may prevent obesity."
However, researchers acknowledge that the impact of such interventions on children's weight status has not been well-studied, and sociodemographic factors such as poverty are also strongly related to both early maternal-child relationship quality and adolescent obesity. Strategies to prevent childhood obesity that have focused directly on energy balance – by increasing physical activity, reducing sedentary behavior, and avoiding excessive consumption of nutrient poor, high calorie foods – have had limited success, and Dr. Anderson suggests it is worth considering alternative approaches. Future studies on obesity prevention could incorporate interventions related to improving the quality of maternal-child relationships, which she believes would provide additional benefits to children's health and well-being.
References:
Anderson SE. Maternal-child relationship quality and risk for obesity throughout childhood: two prospective cohort-studies. Child Health Research Seminar. Nationwide Children's Hospital, 2014 Oct 30.
Anderson SE, Gooze RA, Lemeshow S, Whitaker RC. Quality of early maternal-child relationship and risk of adolescent obesity. Pediatrics. 2012, 129(1):132-140.
Ogden CL, Carroll MD, Kit BK, Flegal KM. Prevalence of childhood and adult obesity in the United States, 2011-2012. Journal of the American Medical Association. 2014, 311(8):806-814.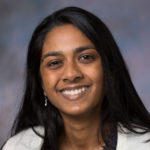 Tiasha is the senior strategist for Clinical & Research Communications at Nationwide Children's Hospital. She provides assistance to investigators in The Research Institute and clinician-scientists at Nationwide Children's for internal and external communication of clinical studies, peer-reviewed journal articles, grant awards and research news. She is also the editor-in-chief for Research Now, Nationwide Children's monthly, all-employee e-newsletter for research, as well as a writer for Pediatrics Nationwide.
Tiasha Letostak, PhD

https://pediatricsnationwide.org/author/tiasha-letostak-phd/

Tiasha Letostak, PhD

https://pediatricsnationwide.org/author/tiasha-letostak-phd/

Tiasha Letostak, PhD

https://pediatricsnationwide.org/author/tiasha-letostak-phd/

Tiasha Letostak, PhD

https://pediatricsnationwide.org/author/tiasha-letostak-phd/