Proof-of-Concept Study Shows Promise of Exon-Skipping Gene Therapy Approach in Duchenne Muscular Dystrophy
Proof-of-Concept Study Shows Promise of Exon-Skipping Gene Therapy Approach in Duchenne Muscular Dystrophy
https://pediatricsnationwide.org/wp-content/uploads/2022/07/AdobeStock_134232290-DNA-header-1024x575-1.gif
1024
575
Lauren Dembeck
Lauren Dembeck
https://pediatricsnationwide.org/wp-content/uploads/2021/03/Dembeck_headshot.gif
Duchenne muscular dystrophy (DMD) is a devastating progressive muscle-wasting disease that leads to loss of motor and cardiorespiratory function. The disease is caused by mutations in the DMD gene that result in the loss of expression of the dystrophin protein, which plays a critical role during contraction and relaxation of muscle.
To date, the U.S. Food and Drug administration has approved four exon-skipping therapies Duchenne muscular dystrophy. These therapies use small synthetic nucleotides, called antisense phosphorodiamidate morpholino oligomers (PMOs), to cause the cell's protein-building machinery to skip mutated exons (sections of the gene transcript that encode protein subunits) to restore dystrophin protein expression — a functional but shortened dystrophin protein.
In a proof-of-concept study, researchers at Nationwide Children's Hospital, The Ohio State University, and Sarepta Therapeutics, Inc., have successfully demonstrated that exon skipping technology can be used to restore full-length dystrophin expression in cases of DMD caused by single-exon duplications. The findings were published in Molecular Therapy: Nucleic Acids.
The team used a peptide-conjugated PMO (PPMO), which has previously been shown to have enhanced cellular uptake, to restore dystrophin expression in a mouse model of DMD exon 2 duplication (with two copies of DMD exon 2), referred to as Dup2.
"We chose DMD exon 2 for this proof-of-concept study because it represents the most common single-exon duplication among patients with DMD, and we know that patients born without a DMD exon 2 mostly have no symptoms and can normally walk into their eighth decade of life," explains senior author Kevin Flanigan, MD, neurologist and director of the Center for Gene Therapy at Nationwide Children's.
In the Dup2 mice, the team demonstrated that a single intravenous injection of the exon 2-targeting PPMO resulted in 45% to 68% exon 2-skipped DMD transcripts in skeletal muscles 15 days after the injection. They also showed that, at peak restoration, 77 to 87% of muscle fibers were positive for dystrophin. Additional molecular studies confirmed the findings.
"This is the first data showing restoration of dystrophin with an antisense oligomer," says Dr. Flanigan. "It introduces the possibility of having several choices of approaches to treat DMD exon duplications, particularly those near the front end of the gene."
The PPMO approach is complementary to the team's highly successful vectorized exon-skipping approach that was announced in May of 2022, adds Dr. Flanigan. "With the viral vector-based approach, we can anticipate giving it once and having it last a long time, but ultimately, we don't know how long. We also know that not everyone with DMD can have it because some people have antibodies to the virus particle used. This drug-based treatment approach offers another option."
Reference
Gushchina LV, Vetter TA, Frair EC, Bradley AJ, Grounds KM, Lay JW, Huang N, Suhaiba A, Schnell FJ, Hanson G, Simmons TR, Wein N, Flanigan KM. Systemic PPMO-mediated dystrophin expression in the Dup2 mouse model of Duchenne muscular dystrophy. Molecular Therapy: Nucleic Acids. 2022 Nov 9;30:479-492.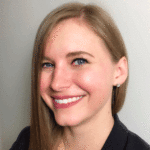 Lauren Dembeck, PhD, is a freelance science and medical writer based in New York City. She completed her BS in biology and BA in foreign languages at West Virginia University. Dr. Dembeck studied the genetic basis of natural variation in complex traits for her doctorate in genetics at North Carolina State University. She then conducted postdoctoral research on the formation and regulation of neuronal circuits at the Okinawa Institute of Science and Technology in Japan.
Lauren Dembeck

https://pediatricsnationwide.org/author/lauren-dembeck/

Lauren Dembeck

https://pediatricsnationwide.org/author/lauren-dembeck/

Lauren Dembeck

https://pediatricsnationwide.org/author/lauren-dembeck/

Lauren Dembeck

https://pediatricsnationwide.org/author/lauren-dembeck/