Global Study Highlights Antibiotic Overuse in the NICU
Global Study Highlights Antibiotic Overuse in the NICU
https://pediatricsnationwide.org/wp-content/uploads/2021/04/040517BS0186_NICU-1024x683.jpg
1024
683
Abbie Miller
Abbie Miller
https://pediatricsnationwide.org/wp-content/uploads/2023/05/051023BT016-Abbie-Crop.jpg
Antimicrobial stewardship programs were associated with lower antibiotic use, regardless of the country's income level.
Excessive antibiotic use among infants born preterm in the newborn intensive care unit (NICU) is associated with poor patient outcomes, such as sepsis, necrotizing enterocolitis, bronchopulmonary dysplasia and others, and contributes to the emergence of multi-drug resistant microbes.
A new study, published in EClinicalMedicine, looked at an international cross section of antibiotic use in NICUs to quantify the prevalence of all antimicrobial use on a single day, to identify the clinical diagnoses used to support antibiotic use and to evaluate whether antibiotics were being used empirically, in a specific, targeted way, empiric, or as prophylaxis. The study team was led by Pavel Prusakov, PharmD, a NICU clinical pharmacist and Pablo Sanchez, MD, a neonatologist and an infectious disease physician at Nationwide Children's Hospital as well as Debra Goff, PharmD, an infectious diseases specialist The Ohio State University Wexner Medical Center.
The team sampled 84 NICUs from 29 countries (14 high-income and 15 low-to-middle income) on July 1, 2019. Antibiotics were the most frequently used antimicrobials (in 92% of patients), while antifungal (in 19%) and antiviral (in 4%) agents were also used.
Antimicrobial utilization per NICU was significantly higher in low-to-middle income countries. But centers that had a NICU-specific antimicrobial stewardship program had lower antibiotic utilization rates regardless of the nation's income level.
"There is a concerning lack of robust international or even national guidance on how to manage neonatal infections. Resources exist, but most of it is considered low quality evidence," Dr. Prusakov says. "Therefore, a lot of decision-making is based on clinical symptomatology and clinician's personal experience. Even hospital-specific guidelines are rare."
The majority of infants received antibiotic therapy as an empiric treatment for possible or culture-negative sepsis/meningitis. Only a minority were treated for culture-confirmed infections. Infants were often treated with antimicrobial therapy based on clinical suspicion of bacterial infection rather than on bacterial culture results. In fact, according to the study, after excluding antibiotics used for prophylaxis, 49% of infants receiving antibiotics received prolonged courses without microbiologic evidence of infection.
In many cases, the perception of antimicrobial use in babies born preterm seems to be "better safe than sorry," says Dr. Prusakov. That is, better to use the antibiotics and prevent or treat possible sepsis than miss a case.
"This is a particularly challenging philosophy to change, because most of the adverse outcomes to antibiotics are not immediate. Often, it is hard to convince people of the adverse consequences associated with the antibiotic courses they prescribe," Dr. Prusakov says.
"The importance of antibiotic stewardship programs cannot be over-emphasized," adds Dr. Prusakov, who helps to lead the Neonatal Antimicrobial Stewardship Committee at Nationwide Children's. "Ultimately, they may help decrease antimicrobial resistance in NICUs worldwide, as well as reducing the number of negative outcomes due to dysbiosis in premature infants."
This article was published in the 2021 Spring/Summer print issue. Download the full issue. 
Reference:
Prusakov P, Goff DA, Wozniak PS, Cassim A, Scipion CEA, Urzua S, Ronchi A, et. al. A global point prevalence survey of antimicrobial use in neonatal intensive care units: The no-more-antibiotics and resistance (NO-MAS-R) study. EClinicalMedicine. 2021;32:100727.
Image credit: Nationwide Children's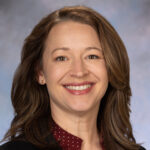 Abbie (Roth) Miller, MWC, is a passionate communicator of science. As the manager, medical and science content, at Nationwide Children's Hospital, she shares stories about innovative research and discovery with audiences ranging from parents to preeminent researchers and leaders. Before coming to Nationwide Children's, Abbie used her communication skills to engage audiences with a wide variety of science topics. She is a Medical Writer Certified®, credentialed by the American Medical Writers Association.
Abbie Miller

https://pediatricsnationwide.org/author/abbie-miller/

Abbie Miller

https://pediatricsnationwide.org/author/abbie-miller/

Abbie Miller

https://pediatricsnationwide.org/author/abbie-miller/

Abbie Miller

https://pediatricsnationwide.org/author/abbie-miller/