Open Reduction May Improve Acetabular Remodeling in Developmental Dysplasia of the Hip
Open Reduction May Improve Acetabular Remodeling in Developmental Dysplasia of the Hip
https://pediatricsnationwide.org/wp-content/uploads/2020/04/011720ds3672-header-klingele-1024x575.jpg
1024
575
Lauren Dembeck
Lauren Dembeck
https://pediatricsnationwide.org/wp-content/uploads/2021/03/Dembeck_headshot.gif
Study of children who had reductions for developmental hip dysplasia at age 2 years or younger highlights differences in outcomes for open and closed reductions.
In children under 2 years of age with developmental dysplasia of the hip, open reduction with capsulorrhaphy appears to improve acetabular remodeling more than closed reduction, according to a study published recently in the Journal of Clinical Orthopaedics and Trauma.
"Our study has shown that improved acetabular remodeling can be achieved with open reduction in kids, especially in the kids who have higher degrees of acetabular dysplasia and higher grade dislocations before you surgically treat them," says senior author of the study Kevin Klingele, MD, who is the chief of Orthopaedic Surgery and director of the Center for Hip Preservation at Nationwide Children's Hospital.
Dr. Klingele and colleagues reviewed the records of all children under the age of 2 with developmental dysplasia of the hip (a total of 68 hips) who underwent closed (42 hips) or open (26 hips) reduction between 2000 and 2015 at Nationwide Children's.
Acetabular index (AI) was measured on radiographs taken before reduction and on follow up (2-years minimum) at 4 years of age. Radiographic outcomes and complications were assessed, including residual dysplasia (outcome AI ≥ 30°), subsequent osteotomy, and avascular necrosis. Hips were graded according to the International Hip Dysplasia Institute classifications.
An outcome AI ≥ 30° was more common in hips successfully treated with closed reduction than with open reduction (29% vs. 19%; p = 0.387). Though this was not significantly different, a larger improvement of AI was found with open reduction than with closed reduction (39% vs. 31%; p = 0.068).
Of the hips successfully treated with closed reduction, an outcome AI ≥ 30° was more common in grade IV hips than grade III hips (44% vs. 17%, p = 0.048).
Of the hips treated with open reduction, only one grade III hip (13%) and 4 IHDI-IV hips (22%) had an outcome AI ≥30°.
Historically, the risk of avascular necrosis from an open reduction often pushes the indications for closed reduction, explains Dr. Klingele, who is also an associate clinical professor of Orthopaedics at The Ohio State University College of Medicine.
The overall incidence of avascular necrosis was higher in the open reduction group than the closed reduction group (23% vs. 7%, respectively). However, when considering only hips that had open reduction without a prior failed closed reduction (13%), the team found that the risk of avascular necrosis was not significantly different between the two groups (p = 0.432).
The study was limited by its retrospective nature and small sample sizes. Additionally, the investigators acknowledge that there could be potential acetabular growth beyond the follow-up age of 4 years and that the incidence of avascular necrosis might increase with a longer follow up.
Therefore, they will continue patients through maturity, assessing residual acetabular dysplasia and the need for additional surgery. The team is also refining measurement strategies to study the quality of reduction.
"For patients with higher-grade hip dysplasia, the closed reduction tends to be somewhat forceful or it can be very difficult to maintain reduction despite a spica cast; thus, moving straight to an open reduction may reduce the risk of needing another surgery in the future," says Dr. Klingele, "I am more inclined use an open reduction in those kids that have borderline closed reductions because of the remodeling benefit shown in this study."
Reference:
Abousamra O, Deliberato D, Singh S, Klingele KE. Closed vs open reduction in developmental dysplasia of the hip: The short-term effect on acetabular remodeling. Journal of Clinical Orthopaedic Trauma. 2020 Mar-Apr;11(2):213-216.
Image credit: Nationwide Children's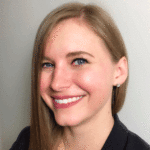 Lauren Dembeck, PhD, is a freelance science and medical writer based in New York City. She completed her BS in biology and BA in foreign languages at West Virginia University. Dr. Dembeck studied the genetic basis of natural variation in complex traits for her doctorate in genetics at North Carolina State University. She then conducted postdoctoral research on the formation and regulation of neuronal circuits at the Okinawa Institute of Science and Technology in Japan.
Lauren Dembeck

https://pediatricsnationwide.org/author/lauren-dembeck/

Lauren Dembeck

https://pediatricsnationwide.org/author/lauren-dembeck/

Lauren Dembeck

https://pediatricsnationwide.org/author/lauren-dembeck/

Lauren Dembeck

https://pediatricsnationwide.org/author/lauren-dembeck/