Collaboration Key in Recent Advances for Batten Disease
Collaboration Key in Recent Advances for Batten Disease
https://pediatricsnationwide.org/wp-content/uploads/2021/03/AdobeStock_58708006-1-1024x683.jpg
1024
683
Abbie Miller
Abbie Miller
https://pediatricsnationwide.org/wp-content/uploads/2023/05/051023BT016-Abbie-Crop.jpg
Batten disease (neuronal ceroid lipofuscinosis) is a collection of lysosomal storage disorders caused by a variety of genetic mutations. These disorders cause an accumulation of cellular "trash" to build up, ultimately causing the neurons to die. So far, scientists have identified 13 different versions of Batten disease, each with its own associated genetic mutation. Each version is extremely rare with a worldwide prevalence of less than 1:100,000.
To discover, test and develop therapeutic approaches to Batten disease, the researchers involved in a first-of-its-kind clinical trial for gene therapy for Batten disease say that collaboration is key.
Investigators in the Center for Gene Therapy in The Research Institute at Nationwide Children's Hospital and in the Pediatrics and Rare Diseases Group at Sanford Research accomplished preclinical work that ultimately led to clinical trials of gene replacement.
Clinical Trials
In March 2015, the first clinical trial for a gene therapy treating Batten's disease opened. The treatment targets CLN6, a subtype with rapid and severe onset. Children with CLN6-Batten disease begin to lose developmental milestones as early as age 1, and they usually die by their teens. Recently, the twelfth patient in the trial received the dose of the drug that researchers hope will be a game changer for the disease.
The gene therapy used associated adenovirus serotype 9 (AAV9) to deliver the functional CLN6 gene. This is the same delivery system used in the recent landmark clinical trial of gene therapy for spinal muscular atrophy type 1. But instead of intravenous injection, the therapy is delivered via lumbar intrathecal injection to the cerebrospinal fluid.
During his time as a principle investigator at Nationwide Children's, Brian Kaspar, PhD, made the discovery that AAV9 could cross the blood-brain barrier, making it an ideal candidate for delivering genetic payloads for the potential treatment of neurodegenerative disorders. He is now chief scientific officer at AveXis.
Kathrin Meyer, PhD, is now leading the preclinical studies related to AAV9 in The Research Institute at Nationwide Children's.
"By working together and building off of the studies done in the Kaspar Lab – now the Meyer Lab – we were able to bring this therapy to phase 1/2 clinical trial much more quickly than we could have working independently," says Jill Weimer, PhD, senior director of Therapeutic Development at Sanford Research.
"Our scientific process is structured to move very quickly," adds Dr. Meyer. "Clinical and preclinical studies are underway simultaneously, and we are constantly learning from other work in the Center for Gene Therapy. We're all staying connected."
Another piece to the team's success is the clinical leadership of the trials. Emily De Los Reyes is an expert on treating Batten disease. And until recently, there was not much she could do for her patients.
"Currently, the only treatment for Batten's disease, enzyme replacement, is available for CLN2-Batten disease. For all other types, we can only treat the symptoms, and the disease is ultimately fatal," Dr. De Los Reyes says. "Gene therapy provides an opportunity to treat all forms of the disease at the source, prolonging and improving quality of life."
Dr. De Los Reyes is the director of the Batten's Disease Center of Excellence at Nationwide Children's Hospital, one of four such centers across the country. She is the clinical leader for US clinical trials for CLN2 enzyme therapy and the CLN6 and CLN3 gene therapy trials.
"Early on, children with Batten disease often present with non-specific symptoms such as seizures, language delay, balance abnormalities and loss of cognitive milestones," says Dr. De Los Reyes. "It is important for physicians to consider that lack of improvement in language or worsening seizures could warrant a more exhaustive genetic or epilepsy panel."
Bringing the Therapy to Market
In September 2018, Amicus Therapeutics acquired Celenex, a clinical stage gene therapy company started to bring the therapies developed by the Nationwide Children's-Sanford team to the market to be available for all patients. This acquisition includes 10 gene therapy programs for lysosomal storage disorders, including the therapies targeting CLN6, CLN3 and CLN8.
Preliminary data from the first two patients in the CLN6 trial was reported by Amicus. The two sibling patients were treated at 2.8 and 5.3 years. In the two years post-treatment, Hamburg motor and language score indicate no disease progression in the younger and disease stabilization in the older sibling. Additional clinical data for the CLN6 trial is expected in 2019.
Photo credit: Adobe Stock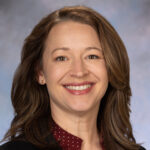 Abbie (Roth) Miller, MWC, is a passionate communicator of science. As the manager, medical and science content, at Nationwide Children's Hospital, she shares stories about innovative research and discovery with audiences ranging from parents to preeminent researchers and leaders. Before coming to Nationwide Children's, Abbie used her communication skills to engage audiences with a wide variety of science topics. She is a Medical Writer Certified®, credentialed by the American Medical Writers Association.
Abbie Miller

https://pediatricsnationwide.org/author/abbie-miller/

Abbie Miller

https://pediatricsnationwide.org/author/abbie-miller/

Abbie Miller

https://pediatricsnationwide.org/author/abbie-miller/

Abbie Miller

https://pediatricsnationwide.org/author/abbie-miller/