How to Increase Adherence to Screening Guidelines for Children With Down Syndrome
How to Increase Adherence to Screening Guidelines for Children With Down Syndrome
https://pediatricsnationwide.org/wp-content/themes/corpus/images/empty/thumbnail.jpg
150
150
Abbie Miller
Abbie Miller
https://pediatricsnationwide.org/wp-content/uploads/2023/05/051023BT016-Abbie-Crop.jpg
Recent study shows that while most families and physicians support the guidelines, patients are not receiving the recommended screenings.
Children with Down syndrome have multiple medical conditions and cognitive impairments related to the additional genetic material from chromosome 21. Because of common comorbid conditions in the Down syndrome population such as heart defects, hearing loss, sleep apnea and eye disease, children with Down syndrome benefit from screenings and early interventions that other children may not require.
The American Academy of Pediatrics guidelines were updated in 2011 with the current recommendations for the care of children with Down syndrome. They are meant to assist pediatricians in navigating the complex care requirements. However, studies have shown poor compliance with the guidelines.
A recent study published in the Journal of Pediatrics assessed adherence to the 2011 AAP health supervision guidelines for Down syndrome and went a step further to evaluate stakeholder attitudes toward the guidelines. In doing so, the team of researchers set out to determine why the guidelines have struggled to gain acceptance and to develop interventions to increase compliance.
"We initiated this study because no quality improvement studies for Down syndrome have targeted the primary care setting," says Stephanie Santoro, MD, lead author on the study, pediatric physician and geneticist at Nationwide Children's Hospital.
The study included 22 pediatric care sites in the Ohio, Kentucky and Indiana area. The intervention group (13 practices) received an educational folder with a copy of the guidelines and a checklist of the recommendations formatted into a progress-note template.
Eight variables were considered for adherence: referrals to cardiology and genetics, echocardiogram, thyroid stimulation hormone, hemoglobin, sleep study and evaluations by audiology and ophthalmology.
"While most pediatricians and parents reported that they are in favor of the screening guidelines and that they follow them, a review of the electronic medical record showed poor base-line compliance," says Dr. Santoro, who was a resident at Cincinnati Children's Hospital Medical Center when the study was conducted.
According to the study, the interventions were successful in increasing adherence to five of the eight universal recommendations, supporting the conclusion that lack of awareness and education was the key barrier to compliance.
"Most kids with Down syndrome see a general pediatrician for primary care," says Dr. Santoro. "Although each pediatrician in our study saw an average of two or fewer children with Down syndrome, those in the intervention group were able to implement the guidelines even though they might not frequently use them."
Dr. Santoro suggests that adding the guidelines to the electronic health record and including a smart phrase reminder — much like that used to remind providers to offer flu shots — would go a long way to increasing compliance.
"Our study showed that stakeholders are willing to follow the guidelines," says Dr. Santoro. "But they need rapid access to clear, simple reminders to successfully adhere to them."
Dr. Santoro, in her new post at Nationwide Children's, is conducting grassroots efforts to educate others about the guidelines by offering training to local pediatricians and sharing the educational intervention developed for the study. The adherence tools developed as part of her study can be downloaded from the links below.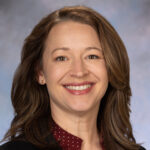 Abbie (Roth) Miller, MWC, is a passionate communicator of science. As the manager, medical and science content, at Nationwide Children's Hospital, she shares stories about innovative research and discovery with audiences ranging from parents to preeminent researchers and leaders. Before coming to Nationwide Children's, Abbie used her communication skills to engage audiences with a wide variety of science topics. She is a Medical Writer Certified®, credentialed by the American Medical Writers Association.
Abbie Miller

https://pediatricsnationwide.org/author/abbie-miller/

Abbie Miller

https://pediatricsnationwide.org/author/abbie-miller/

Abbie Miller

https://pediatricsnationwide.org/author/abbie-miller/

Abbie Miller

https://pediatricsnationwide.org/author/abbie-miller/