A Novel, Promising Strategy for Diagnosing UTIs in Children
A Novel, Promising Strategy for Diagnosing UTIs in Children
https://pediatricsnationwide.org/wp-content/themes/corpus/images/empty/thumbnail.jpg
150
150
Tiasha Letostak, PhD
Tiasha Letostak, PhD
https://pediatricsnationwide.org/wp-content/uploads/2021/03/Tiasha-Letostak.jpg
Antimicrobial peptides may be effective biomarkers for diagnosing urinary tract infections in children.
Urinary tract infections (UTIs) are one of the most common infections in children and account for millions of unplanned pediatrician and urgent care visits each year in the United States. Previous research has shown that antimicrobial peptides, referred to as AMPs, are found in the urine and kill bacteria and that the abundance of these peptides rises significantly in adult patients with UTIs. In a novel study on pediatric patients, a multi-institutional team also found AMPs to be effective biomarkers for aiding in diagnosis of UTIs in children.
"Long-standing methods used to clinically identify UTIs have several shortcomings," says Andrew Schwaderer, MD, research director in the Section of Nephrology at Nationwide Children's Hospital and senior author of the study, which was recently published in Pediatric Research. "Urinalysis, specifically, has limited accuracy, and urine culture takes 24 hours to complete."
For these reasons, the team was looking for diagnostics that would allow for more accurate and rapid treatment of UTIs in children. After completing a preliminary study of adult emergency department patients, researchers found that some AMPs, specifically Human alpha defensin 1 and human alpha defensin 5,  were good markers for diagnosing infection.
Because the body's immune system changes with age, the team then conducted a study of children in the Emergency Department and Urgent Care to determine if findings would be applicable for a pediatric patient population.
"We collected urine samples from children at Nationwide Children's that had urinalysis and urine cultures ordered for clinical indications," says Dr. Schwaderer, who is also a principal investigator in the Center for Clinical and Translational Research at The Research Institute at Nationwide Children's. "We measured urine antimicrobial peptide levels and normalized these levels to urine creatinine to control for differences in urine concentration between patients."
Researchers compared the levels of these antimicrobial peptides to the urine culture and urinalysis, including comparison to leukocyte esterase, an enzyme produced by white blood cells.
A leukocyte esterase test (LE test) is a urine test that screens for the presence of white blood cells in urine, which usually indicates a urinary tract infection. The team examined whether tests involving the AMPs, either individually or in combination with LE, were better at detecting infection, with a focus on both the specificity and the sensitivity of the test.
"The combination test of LE and human alpha defensin 5 had increased specificity without decreasing sensitivity, when compared to the test results on urinalysis when LE levels were the same as or greater than trace amounts," explains Joshua Watson, MD, attending physician in Infectious Diseases at Nationwide Children's and co-author of the study.
Because preliminary findings have shown that AMPs are good biomarkers in adults and children, researchers now hope to develop a lateral flow assay, according to Dr. Schwaderer. The test would be similar to current, fast-acting pregnancy tests, providing answers within a matter of minutes for the hundreds of thousands of children and adults annually impacted by UTIs.
"In the future, we plan to develop and prospectively study this rapid, point-of-care test for alpha defensin 5 levels in urine, to see if this test can result in more accurate and rapid diagnosis of urinary tract infections," says Dr. Schwaderer.
References:
Caterino JM, Hains DS, Camargo CA, Quraishi SA, Saxena V, Schwaderer AL. A prospective, observational pilot study of the use of urinary antimicrobial peptides in diagnosing emergency department patients with positive urine cultures. Academic Emergency Medicine. 2015 Oct;22(10):1226-30.
Watson JR, Hains DS, Cohen DM, Spencer JD, Kline JM, Yin H, Schwaderer AL. Evaluation of novel urinary tract infection biomarkers in children. Pediatric Research. 2016 Feb 17 [Epub ahead of print].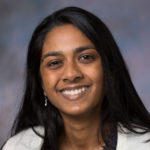 Tiasha is the senior strategist for Clinical & Research Communications at Nationwide Children's Hospital. She provides assistance to investigators in The Research Institute and clinician-scientists at Nationwide Children's for internal and external communication of clinical studies, peer-reviewed journal articles, grant awards and research news. She is also the editor-in-chief for Research Now, Nationwide Children's monthly, all-employee e-newsletter for research, as well as a writer for Pediatrics Nationwide.
Tiasha Letostak, PhD

https://pediatricsnationwide.org/author/tiasha-letostak-phd/

Tiasha Letostak, PhD

https://pediatricsnationwide.org/author/tiasha-letostak-phd/

Tiasha Letostak, PhD

https://pediatricsnationwide.org/author/tiasha-letostak-phd/

Tiasha Letostak, PhD

https://pediatricsnationwide.org/author/tiasha-letostak-phd/