The 5,000 Babies Project: Screening Newborns for Early Diagnosis of Developmental Delay
The 5,000 Babies Project: Screening Newborns for Early Diagnosis of Developmental Delay
https://pediatricsnationwide.org/wp-content/themes/corpus/images/empty/thumbnail.jpg
150
150
Lauren Dembeck
Lauren Dembeck
https://pediatricsnationwide.org/wp-content/uploads/2021/03/Dembeck_headshot.gif
Democratizing health care requires equal access to early identification of infant neurodevelopmental disorders. 
Delayed diagnosis of disorders that involve developmental delays, such as cerebral palsy, can lead to lifelong disability. Yet not all families have access to health care facilities employing highly trained specialists who can test for these developmental delays. Infants from minority families and those who live in low socioeconomic status or rural areas are often diagnosed later than infants from White families and those who live in urban areas.
In an innovative move to democratize health care, a team of researchers led by Linda Lowes, PT, PhD, and Lindsay Alfano, PT, DPT, PCS, co-principal investigators in the Center for Gene Therapy at the Abigail Wexner Research Institute at Nationwide Children's Hospital, is developing an inexpensive, noninvasive system to evaluate babies for neuromuscular and developmental disorders in the pediatricians' office or clinic.
"The first 1,000 days of life are the most critical because a baby's brain is growing and changing so much during that time," says Dr. Lowes. "If you can evaluate and, if needed, get the baby to therapy within the first 1,000 days, it has the potential to be life changing. If you wait, it may be too late to help."
The current study, termed the 5,000 Baby Project, aims to capture the movement of at least 5,000 babies, including those with a diagnosis and those with no known risk factors, to test and refine the system's ability to predict a baby's risk of developmental delay. Babies will be monitored at well-baby visits between birth and six months of age. Follow up will continue throughout childhood.
"We think monitoring these children over time to see what diagnoses, if any, they receive will help us reduce the time to diagnosis for future babies," says Dr. Alfano. "We have collected data for about 600 babies so far and are still looking for collaborators and other colleagues to help with this project."
The system, called the ACTIVE-mini, uses a camera with motion-tracking software to monitor and record a baby's movements for four minutes. The team then uses artificial intelligence and machine learning algorithms (developed and owned by Nationwide Children's) to provide a motor function score, classifying each baby's movement as healthy or "at risk."
"The process is very simple. The system is small and portable, so it can be set up just about anywhere. The parent or caretaker places the baby underneath the camera. We never touch the baby, so it's contact free, and it only takes 10 minutes total," says Dr. Lowes.
"It doesn't impact the flow of the clinic," adds Dr. Alfano.
Dr. Lowes and Dr. Alfano envision the system as a future fixture in pediatricians' offices and eventually as a smartphone application that could be used in underserved communities and countries to accelerate the time to intervention.
"Technology is becoming more and more ingrained in our society," says Dr. Alfano. "We see this as an adjunct that can give physicians confidence in their decisions or also provide another piece of evidence to help make a decision."
Acknowledgement of Support: The research is supported by Microsoft Philanthropies Artificial Intelligence for Health, Novartis, Jeni's Splendid Ice Cream, and Ohio Third Frontier technology development and matching funds from the Abigail Wexner Research Institute.
References
Soran B, Lowes L, Steele KM (2016) Evaluation of Infants with Spinal Muscular Atrophy Type-I Using Convolutional Neural Networks. In: Hua G., Jégou H. (eds) Computer Vision – ECCV 2016 Workshops. ECCV 2016. Lecture Notes in Computer Science, vol 9914. Springer, Cham. https://doi.org/10.1007/978-3-319-48881-3_34
Chen D, Rust S, Lin ED, Lin S, Nelson L, Alfano L, and Lowes LP. 2018. Prediction of Clinical Outcomes of Spinal Muscular Atrophy Using Motion Tracking Data and Elastic Net Regression. In Proceedings of the 2018 ACM International Conference on Bioinformatics, Computational Biology, and Health Informatics (BCB '18). Association for Computing Machinery, New York, NY, USA, 474–481. DOI:https://doi.org/10.1145/3233547.3233572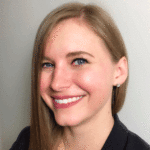 Lauren Dembeck, PhD, is a freelance science and medical writer based in New York City. She completed her BS in biology and BA in foreign languages at West Virginia University. Dr. Dembeck studied the genetic basis of natural variation in complex traits for her doctorate in genetics at North Carolina State University. She then conducted postdoctoral research on the formation and regulation of neuronal circuits at the Okinawa Institute of Science and Technology in Japan.
Lauren Dembeck

https://pediatricsnationwide.org/author/lauren-dembeck/

Lauren Dembeck

https://pediatricsnationwide.org/author/lauren-dembeck/

Lauren Dembeck

https://pediatricsnationwide.org/author/lauren-dembeck/

Lauren Dembeck

https://pediatricsnationwide.org/author/lauren-dembeck/