Novel Use of Vedolizumab Resolves Steroid-Refractory Acute Graft-Versus-Host Disease in a Pediatric Transplant Recipient
Novel Use of Vedolizumab Resolves Steroid-Refractory Acute Graft-Versus-Host Disease in a Pediatric Transplant Recipient
https://pediatricsnationwide.org/wp-content/uploads/2020/07/061620ds0401-FINAL-header-1024x575.jpg
1024
575
Lauren Dembeck
Lauren Dembeck
https://pediatricsnationwide.org/wp-content/uploads/2021/03/Dembeck_headshot.gif
Vedolizumab is a monoclonal antibody that targets α4β7 integrin present on gut homing T cells and is indicated for adult inflammatory bowel disease
Physicians at Nationwide Children's Hospital have successfully treated steroid-refractory gastrointestinal acute graft-versus-host disease (SR GI aGVHD) with adjuvant vedolizumab therapy in a pediatric allogeneic hematopoietic cell transplant (HCT) recipient.
The case was recently reported as a letter to the editor in Pediatric Blood & Cancer by Hemalatha Rangarajan, MD, of the Division of Hematology, Oncology, & Blood and Marrow Transplant at Nationwide Children's, and colleagues. "When graft-versus-host disease (GVHD) does not respond to steroids (steroid refractory), it becomes very difficult to treat. Moreover,  in situations as this one, treatment becomes even more challenging when GVHD does not respond to several agents," says Dr. Rangarajan. "In this context, the use of this agent [vedolizumab] was made possible only by the involvement of several specialties, including GI, surgery, and heme/BMT. This multidisciplinary team approach to management enabled a favorable outcome for this child."
The child was a 9-year-old female with severe sickle cell disease who developed SR GI aGVHD after an unrelated HCT. Following conditioning chemotherapy with alemtuzumab, fludarabine, melphalan and thiotepa, tacrolimus, methotrexate and abatacept were given for aGVHD prophylaxis.
The patient developed late-onset GI aGVHD 189 days post-HCT. GI biopsies revealed marked mucosal injury, gland destruction, crypt abscess, and scattered apoptosis. She began treatment with sirolimus and steroids (2mg/kg of methylprednisolone, beclomethasone and budesonide). However, by 196 days post-HCT, she had no response to steroids and was deemed SR.
Given she had persistent diarrhea at 206 days post-HCT, the patient received treatment with multiple second-line therapies, including infliximab, rabbit anti-thymocyte globulin, rituximab, photopheresis and mesenchymal stromal cells; all of which yielded little or no response. Her stool output during this time period ranged from 15 m/kg (375 ml) to a maximum of 240 ml/kg (6 liters/day).
"This case of SR GI aGVHD was a prime example of how our multidisciplinary team tried a stepwise approach to treat SR GI aGVHD with known agents that have been tried in children and we had to find a way to alleviate her gastrointestinal symptoms," says Dr. Rangarajan.
After extensive discussions with colleagues from multiple disciplines, the BMT team opted to initiate vedolizumab, which is FDA approved for treatment of inflammatory bowel disease (IBD) in adults, due to its inhibitory activity on α4β7 integrin present on gut homing T cells. Approximately four months after GI aGVHD (day 266) diagnosis, the patient initiated intravenous vedolizumab (6 mg/kg: 200 mg) and received three doses over 6 weeks. She had a partial response after the first dose and a complete response ( < 5 ml/kg of stool output) after the second dose.
The patient is now 38 months post-BMT with no GI symptoms, and according to Dr. Rangarajan, is growing, back to school, has performance score of 90%, and remains sickle cell free (99% chimerism). This case demonstrates that vedolizumab may be effective in children with SR aGVHD and highlights the need for future studies in this context.
"With the emergence of these new immune-directed therapies, there's a potential application to use them for disease indications like steroid refractory graft-versus-host disease in allogeneic transplant. However, with that potential application, we have much to learn," says Jeffery Auletta, MD, director of the Blood and Marrow Transplant Program at Nationwide Children's and coauthor of the letter. "Future clinical trials are needed to define both efficacy and safety in this high need patient population."
Reference
Pai V, Abu-Arja R, Auletta JJ, Rangarajan HG. Successful Treatment of Steroid-Refractory Gastrointestinal Acute Graft-Versus-Host Disease With Adjuvant Vedolizumab Therapy in a Pediatric Allogeneic Stem Cell Transplant Recipient. Pediatric Blood & Cancer. 2020 May 30;e28298. Online ahead of print.
Image credit: Nationwide Children's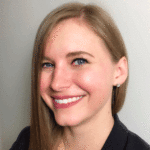 Lauren Dembeck, PhD, is a freelance science and medical writer based in New York City. She completed her BS in biology and BA in foreign languages at West Virginia University. Dr. Dembeck studied the genetic basis of natural variation in complex traits for her doctorate in genetics at North Carolina State University. She then conducted postdoctoral research on the formation and regulation of neuronal circuits at the Okinawa Institute of Science and Technology in Japan.
Lauren Dembeck

https://pediatricsnationwide.org/author/lauren-dembeck/

Lauren Dembeck

https://pediatricsnationwide.org/author/lauren-dembeck/

Lauren Dembeck

https://pediatricsnationwide.org/author/lauren-dembeck/

Lauren Dembeck

https://pediatricsnationwide.org/author/lauren-dembeck/