ADHD Medications Do Not Curb Adult Height
ADHD Medications Do Not Curb Adult Height
https://pediatricsnationwide.org/wp-content/themes/corpus/images/empty/thumbnail.jpg
150
150
Tiasha Letostak, PhD
Tiasha Letostak, PhD
https://pediatricsnationwide.org/wp-content/uploads/2021/03/Tiasha-Letostak.jpg
According to the Centers for Disease Control and Prevention, the number of children being diagnosed with attention deficit hyperactivity disorder (ADHD) has increased from 7.8 percent to 11 percent in the last decade. Specifically, approximately 2 million more U.S. children between the ages of 4 and 17 had been diagnosed with ADHD in 2011 than in 2003, and more than two-thirds of those currently diagnosed with ADHD were taking medication for treatment in 2011.
With so many families opting for medication to treat their children with ADHD, both parents and pediatricians are concerned about potential side effects, particularly with respect to possible deficits in overall growth or height. Prior studies have had conflicting results, with some authors indicating that stimulants do affect growth and others finding no evidence to suggest a link between ADHD stimulant medications and growth deficits. However, very few studies have tracked the children beyond their youth and looked at their final heights in adulthood.
Now, a longitudinal study published in Pediatrics earlier this month has done just that. Along with his colleagues, lead author William Barbaresi, MD, a developmental-behavioral pediatrician at Boston Children's Hospital, identified 340 children diagnosed with ADHD and tracked them into adulthood. Researchers found that neither ADHD diagnosis itself nor treatment with stimulant drugs during childhood was linked to a significant difference in growth or final height in adulthood, compared to the average for that age and gender.
"This study is good news for families and practitioners involved in the care of children with ADHD," says Rebecca A. Baum, MD, developmental and behavioral pediatrician at Nationwide Children's Hospital. "Stimulant medications can be extremely helpful, but as with any medication, side effects are possible, and the effect of stimulant medications on growth has been a potential area of concern. This study provides more reassurance that these medications can be used safely when monitored effectively."
The only significant effect found in the study was for boys treated with drugs for at least three years. For these children, the ADHD medications were associated with an approximately six-month delay in peak growth spurts, but there was no significant effect on the ultimate height of these men as adults. Overall, the study shows no relationship between dose or duration of treatment and adult height.
"As the authors suggest, it remains important for prescribers to monitor children for the possibility of adverse effects," explains Dr. Baum, who has a primary research interest in ADHD. "Stimulant medications can suppress appetite, resulting in poor weight gain and possibly slow growth. These effects may be dose-dependent, so adjusting the medication to maximize clinical benefit while minimizing side effects is important."
References:
Harpin VA. The effect of ADHD on the life of an individual, their family, and community from preschool to adult life. Archives of Disease in Childhood. 2005 Feb;90 Suppl 1:i2-7.
Harstad EB, Weaver AL, Katusic SK, Colligan RC, Kumar S, Chan E, Voigt RG, Barbaresi WJ. ADHD, Stimulant Treatment, and Growth: A Longitudinal Study.Pediatrics. 2014 Sep 1. [Epub ahead of print].
Visser SN, Danielson ML, Bitsko RH, Holbrook JR, Kogan MD, Ghandour RM, Perou R, Blumberg SJ. Trends in the parent-report of health care provider-diagnosed and medicated attention-deficit/hyperactivity disorder: United States, 2003-2011.Journal of the American Academy of Child and Adolescent Psychiatry. 2014 Jan;53(1):34-46.e2. Epub 2013 Nov 21.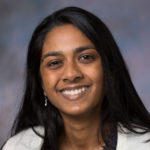 Tiasha is the senior strategist for Clinical & Research Communications at Nationwide Children's Hospital. She provides assistance to investigators in The Research Institute and clinician-scientists at Nationwide Children's for internal and external communication of clinical studies, peer-reviewed journal articles, grant awards and research news. She is also the editor-in-chief for Research Now, Nationwide Children's monthly, all-employee e-newsletter for research, as well as a writer for Pediatrics Nationwide.
Tiasha Letostak, PhD

https://pediatricsnationwide.org/author/tiasha-letostak-phd/

Tiasha Letostak, PhD

https://pediatricsnationwide.org/author/tiasha-letostak-phd/

Tiasha Letostak, PhD

https://pediatricsnationwide.org/author/tiasha-letostak-phd/

Tiasha Letostak, PhD

https://pediatricsnationwide.org/author/tiasha-letostak-phd/