Incidence and Impact of Acute Kidney Injury in Patients With Hypoplastic Left Heart Syndrome
Incidence and Impact of Acute Kidney Injury in Patients With Hypoplastic Left Heart Syndrome
https://pediatricsnationwide.org/wp-content/themes/corpus/images/empty/thumbnail.jpg
150
150
Abbie Miller
Abbie Miller
https://pediatricsnationwide.org/wp-content/uploads/2023/05/051023BT016-Abbie-Crop.jpg
While incidence of severe kidney injury after surgery for hypoplastic left heart syndrome is low, it may be linked to increased 30-day mortality.
Acute kidney injury – the abrupt decline of renal function – following pediatric heart surgery leads to worse outcomes, including increased mortality. The overall incidence of acute kidney injury (AKI) after pediatric congenital heart surgery is somewhere between 30 and 50%.
For patients with hypoplastic left heart syndrome (HLHS), multiple surgeries early in life are needed to reestablish adequate systemic blood flow. Two general surgical pathways are used to treat HLHS, which are perhaps most dramatically different in their first surgery. The Norwood is a complex procedure typically performed during the first week of life. Hybrid palliation (or Hybrid Stage 1) delays the more complex surgery to outside the neonatal period.
"The goal of the hybrid palliation is to avoid end-organ injury, including AKI, in a vulnerable patient population," says Catherine Krawczeski, MD, chief of Cardiology and co-director of The Heart Center at Nationwide Children's Hospital.
In a recent study from Nationwide Children's researchers, published in Cardiology in the Young, cardiologists, nephrologists and biostatisticians worked together to establish the incidence of AKI in patients undergoing hybrid stage 1 palliation for HLHS. Notably, the hybrid method is the primary pathway for patients treated at The Heart Center at Nationwide Children's.
"We do more hybrid palliations at Nationwide Children's than anywhere else," says Dr. Krawceski, who is a study co-author. "Most other studies that have looked at the incidence of kidney injury following hybrid stage 1 for patients with HLHS have been from institutions that only use the hybrid approach for high risk, complex patients. We had the opportunity to take advantage of our large, unique patient population."
The team reviewed a cohort of 82 patients who had hybrid palliation for HLHS and met other study criteria. AKI as measured by the pRIFLE (pediatric Risk, Injury, Failure, Loss, and End-stage renal disease) and KDIGO (Kidney Disease Improving Global Outcomes) schemas were approximately 21% and 13%, respectively. The incidence of severe AKI was 2.44% by both criteria.
"The pathophysiology of AKI in patients with HLHS is not fully understood. But it is hypothesized to be due to cross-interaction between the heart and kidneys involving low cardiac output, fluid overload, and the triggering of an inflammatory cascade," says John David Spencer, MD, chief of Nephrology, principal investigator in the Center for Clinical and Translational Research and study co-author. "Our study adds to the existing data that severe AKI is associated with an increase in mortality, and further highlights the need to conduct additional research toward the end of protecting the kidneys of this vulnerable population."
"The researchers note that additional studies evaluating the incidence of kidney injury following comprehensive stage 2 surgery—the larger, more complex surgery that follows hybrid stage 1—are critical to completely understand the cumulative risk of AKI in these patients. To address this, they are currently completing this follow-up study and will have results available soon."
"While our study and others have shown that the incidence of severe AKI is low in patients with HLHS who undergo hybrid stage 1, those who do develop severe AKI may be at an increased risk for mortality in the 30-day postoperative window," says Dr. Krawczeski. "By learning more about AKI in this patient population, we can develop treatment strategies that ensure each child achieves their best possible outcome."
Reference:
Cunningham TW, Tan Y, Krawczeski CD, Spencer JD, Bai S, Phelps C, Yates AR. Incidence and impact of acute kidney injury in patients with hypoplastic left heart syndrome following the hybrid stage 1 palliation. Cardiol Young. 2020 Dec 2:1-7. [Epub ahead of print]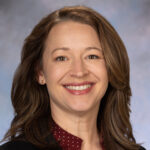 Abbie (Roth) Miller, MWC, is a passionate communicator of science. As the manager, medical and science content, at Nationwide Children's Hospital, she shares stories about innovative research and discovery with audiences ranging from parents to preeminent researchers and leaders. Before coming to Nationwide Children's, Abbie used her communication skills to engage audiences with a wide variety of science topics. She is a Medical Writer Certified®, credentialed by the American Medical Writers Association.
Abbie Miller

https://pediatricsnationwide.org/author/abbie-miller/

Abbie Miller

https://pediatricsnationwide.org/author/abbie-miller/

Abbie Miller

https://pediatricsnationwide.org/author/abbie-miller/

Abbie Miller

https://pediatricsnationwide.org/author/abbie-miller/