Grandparents Raising Grandchildren: "They Get the Job Done"
Grandparents Raising Grandchildren: "They Get the Job Done"
https://pediatricsnationwide.org/wp-content/uploads/2021/03/AdobeStock_7099980.gif-grandparent-header-1024x575.gif
1024
575
Abbie Miller
Abbie Miller
https://pediatricsnationwide.org/wp-content/uploads/2023/05/051023BT016-Abbie-Crop.jpg
Research presented at the American Academy of Pediatrics 2018 National Conference finds that the growing number of grandparents serving as sole caregivers for their grandchildren are coping well.
In the United States, millions of children are being raised solely by their grandparents. As the opioid crisis and other factors continue to disrupt families, experts expect the number of children raised by grandparents to continue to grow.
A new study abstract, presented at the American Academy of Pediatrics (AAP) 2018 National Conference & Exhibition, shows that those who are stepping in to raise their grandchildren are overcoming unique challenges. In fact, they manage just as well as biological or adoptive parent caregivers.
The study is the first to examine a nationally representative sample of children and directly compare households where children are being raised by their grandparents with those being raised by their parents.
"A large and increasing number of mothers and fathers aren't able to meet the responsibilities of parenthood, prompting their own parents to take on the primary caregiver role for their grandchildren," lead author Andrew Adesman, MD, FAAP, chief of Developmental and Behavioral Pediatrics for Cohen Children's Medical Center of New York, said in a press release from the AAP. "But while these children are more likely to have behavior problems related to adverse childhood experiences, and the grandparents themselves often face extra health and socioeconomic hurdles, our findings suggest they appear to be coping well."
Using data from the 2016 National Survey of Children's Health, researchers analyzed responses from 44,807 parent-led households and 1,250 grandparent-led households. The results show some key distinctions in the two groups. First, caregivers raising their grandchildren were more likely to have a greater number of physical and mental health problems, have household incomes at or below the federal poverty line, have lower levels of education and be single. About 31 percent of grandparent caregivers reported that they did not have a day-to-day emotional support system for parenting – similar to the 24 percent of parent caregivers.
The grandchildren were more likely to become angry or anxious with transitions, lose their temper and have other behavioral issues.
"This was not surprising. We know that children in non-parental care likely experienced more adverse childhood experiences and have an increased risk of behavioral problems as a result," says abstract co-author Sarah Keim, PhD, principal investigator in the Center for Biobehavioral Health in The Research Institute at Nationwide Children's Hospital.
Despite the extra challenges grandparent caregivers and their grandchildren face individually, Dr. Keim says that grandparents and parents showed no difference when asked if the child "does things that really bother" them, is "harder to care for" than peers, or if they often "felt angry with this child." In fact, grandparents and parents did not differ on most measures of parent coping, parenting stress or caregiver-child interactions after accounting for the age and health of the children, child health and child age.
Even though grandparent caregivers seem to be coping well, Drs. Keim and Adesman say that pediatricians and other health professions should be mindful of the issues that "grandfamilies" face and prepared to refer them to counseling and community supports as appropriate.
Image credit: Adobe Stock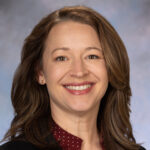 Abbie (Roth) Miller, MWC, is a passionate communicator of science. As the manager, medical and science content, at Nationwide Children's Hospital, she shares stories about innovative research and discovery with audiences ranging from parents to preeminent researchers and leaders. Before coming to Nationwide Children's, Abbie used her communication skills to engage audiences with a wide variety of science topics. She is a Medical Writer Certified®, credentialed by the American Medical Writers Association.
Abbie Miller

https://pediatricsnationwide.org/author/abbie-miller/

Abbie Miller

https://pediatricsnationwide.org/author/abbie-miller/

Abbie Miller

https://pediatricsnationwide.org/author/abbie-miller/

Abbie Miller

https://pediatricsnationwide.org/author/abbie-miller/