Dopamine: A Rescue Therapy for Fontan Patients With Protein-Losing Enteropathy?
Dopamine: A Rescue Therapy for Fontan Patients With Protein-Losing Enteropathy?
https://pediatricsnationwide.org/wp-content/themes/corpus/images/empty/thumbnail.jpg
150
150
Jeb Phillips
Jeb Phillips
https://pediatricsnationwide.org/wp-content/uploads/2021/03/Jeb-Phillips.jpg
Patients with quickly worsening PLE saw serum albumin levels stabilize after dopamine treatment.
Patients who have undergone the Fontan procedure for single ventricle congenital heart disease do not often develop protein-losing enteropathy (PLE) – but those who do are at substantial risk of mortality and morbidity. Only heart transplant has been shown to alleviate PLE symptoms for most of them.
But a recent case report from pediatric cardiologists, including the section chief of The Heart Center at Nationwide Children's Hospital, suggests that dopamine is potential stabilizing therapy for Fontan-palliated patients with refractory PLE who may be awaiting transplant.
"We found a significant response to dopamine infusion in patients whose PLE symptoms had been getting progressively worse," says Robert J. Gajarski, MD, an author of the report, who along with his role in The Heart Center at Nationwide Children's is also a professor of Pediatrics at The Ohio State University College of Medicine. "The mechanism for improvement is not clear, but the success shown in these patients shows further study is warranted."
The report, published in Pediatric Transplantation, describes three cases. Each patient underwent the Fontan procedure between 18 months and 2 years of age. PLE diagnoses came at 5, 9 and 13 years of age, respectively. The patients required intermittent albumin infusions for many years, but at the ages of 12, 17 and 18, respectively, the need for infusion or supplementation increased dramatically – one patient was eventually receiving several infusions per week.
Once dopamine was initiated for that patient, physicians were able to wean him to one infusion per week within two months, and by the time of heart transplantation, he was able to maintain a serum albumin of 3.5 mg/dL or greater for nine days without infusion. That had not occurred for three years.
The two other patients' serum albumin levels also rapidly stabilized and their need for supplementation was substantially reduced, according to the report.
The authors offer several possible explanations for the response to dopamine: an augmentation of mesenteric blood flow, an ability to increase cardiac output with exercise, and, most interestingly, the potential effect of dopamine on lymphatic circulation. The patients had normal or only mildly depressed systolic function before treatment and no changes of heart rate after treatment, so augmentation of systolic function and atrial pacing were less likely to be important.
"Dopamine is a promising therapy, but we need to understand its mechanism in order to identify those Fontan patients who may derive optimal benefit from its use," says Dr. Gajarski.
Reference:
Friedland-Little JM, Gajarski RJ, Schumacher KR. Dopamine as a potential rescue therapy for refractory protein-losing enteropathy in Fontan-palliated patients. Pediatric Transplantation. 2017 June; 21(4).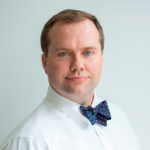 Jeb is the Managing Editor, Executive Communications, in the Department of Marketing and Public Relations at Nationwide Children's Hospital. He contributes feature stories and research news to PediatricsOnline, the hospital's electronic newsletter for physicians and other health care providers, and to Pediatrics Nationwide. He has served as a communications specialist at the Center for Injury Research and Policy at The Research Institute and came to Nationwide Children's after 14-year career as daily newspaper reporter, most recently at The Columbus Dispatch.
Jeb Phillips

https://pediatricsnationwide.org/author/jeb-phillips/

Jeb Phillips

https://pediatricsnationwide.org/author/jeb-phillips/

Jeb Phillips

https://pediatricsnationwide.org/author/jeb-phillips/

Jeb Phillips

https://pediatricsnationwide.org/author/jeb-phillips/