Hormonal Contraception Safer Than Expected For Women With Diabetes
Hormonal Contraception Safer Than Expected For Women With Diabetes
https://pediatricsnationwide.org/wp-content/themes/corpus/images/empty/thumbnail.jpg
150
150
Abbie Miller
Abbie Miller
https://pediatricsnationwide.org/wp-content/uploads/2023/05/051023BT016-Abbie-Crop.jpg
Women with diabetes often fall through the cracks when it comes to prescription contraception. A new study illuminates the issues and highlights safe options.
The use of contraception to prevent unplanned pregnancies is an important aspect of women's health. For women with chronic health conditions, family planning has important implications for the health of the mother and of the child. For women with diabetes, pregnancy timing is critical because hyperglycemia increases the risk for birth defects.
However, because of concerns over a potential increase in risk of heart attack or stroke, many physicians have been slow to offer prescription birth control to women with diabetes.
Estrogen-containing birth control — including oral contraceptives, transdermal patches and vaginal rings — prevent pregnancy by suppressing ovulation. While effective contraceptives, these methods increase women's risks for heart attacks, strokes and blood clots. Physicians have been especially reluctant to prescribe hormonal birth control to women with diabetes, as adults with diabetes are two to four times more likely to die from heart disease than adults who do not have diabetes.
The results of a recently published study in Diabetes Care showed that the vast majority of diabetic women — 72 percent — did not receive prescription contraception of any kind, despite the importance of pregnancy planning for this population.
"This was alarming, since women with diabetes become pregnant as often as other women," said lead author Sarah O'Brien, MD, principal investigator in the Center for Innovation in Pediatric Practice and hematologist at Nationwide Children's Hospital. "But birth defects occur in pregnancies conceived by women with diabetes more than twice as frequently as in the general population."
"…WOMEN WITH DIABETES BECOME PREGNANT AS OFTEN AS OTHER WOMEN, BUT BIRTH DEFECTS OCCUR IN PREGNANCIES CONCEIVED BY WOMEN WITH DIABETES MORE THAN TWICE AS FREQUENTLY AS IN THE GENERAL POPULATION." — SARAH O'BRIEN, MD
The study, one of the first to evaluate hormonal contraception and health outcomes in women with a chronic condition, further showed that strokes and heart attacks are rare for women with diabetes who use hormonal contraception, with the safest options being intrauterine devices (IUDs) and under-the-skin implants.
"Clinicians need to get beyond the idea that birth control just means 'the pill,'" said study senior author Eleanor Bimla Schwarz, MD, MS, professor of internal medicine at UC Davis Health System. "There are options that are safe and effective for all women, including those with diabetes."
The study authors wanted to know to what extent the risks of cardiovascular events for diabetic women differed with various types of hormonal birth control. Using data from Clinformatics, a health claims database encompassing 15 million commercially-insured people throughout the United States, they examined information from 2002 to 2011 on reproductive-aged (14-44 years) females with type 1 or type 2 diabetes. The records of nearly 150,000 women were evaluated for hormonal birth control prescriptions and the occurrence of strokes, heart attacks or blood clots, also known as thromboembolism.
Overall, thromboembolic events among women in the study were low, with 6.3 events per 1,000 women each year. The contraceptives least likely to be associated with thrombosis were IUDs and subdermal implants, which are long acting reversible contraceptives (LARC). Estrogen patches and progestin-only injections were both associated with slightly increased risks of thromboembolism.
"The next step is to understand the best ways to share this information with women who have diabetes and make sure they are consistently offered a full range of contraceptive options," says Dr. Schwarz.
"We encourage physicians to speak with their patients with diabetes about birth control and family planning," says Dr. O'Brien. "Particularly for adolescents and young women with diabetes, the primary care provider may be the best source for initial contraceptive counseling."
The study was funded by the American Diabetes Association.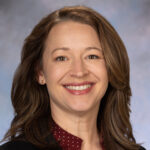 Abbie (Roth) Miller, MWC, is a passionate communicator of science. As the manager, medical and science content, at Nationwide Children's Hospital, she shares stories about innovative research and discovery with audiences ranging from parents to preeminent researchers and leaders. Before coming to Nationwide Children's, Abbie used her communication skills to engage audiences with a wide variety of science topics. She is a Medical Writer Certified®, credentialed by the American Medical Writers Association.
Abbie Miller

https://pediatricsnationwide.org/author/abbie-miller/

Abbie Miller

https://pediatricsnationwide.org/author/abbie-miller/

Abbie Miller

https://pediatricsnationwide.org/author/abbie-miller/

Abbie Miller

https://pediatricsnationwide.org/author/abbie-miller/