For Infants Born Very Preterm, Transcatheter Device Closure of Patent Ductus Arteriosus is Feasible
For Infants Born Very Preterm, Transcatheter Device Closure of Patent Ductus Arteriosus is Feasible
https://pediatricsnationwide.org/wp-content/themes/corpus/images/empty/thumbnail.jpg
150
150
Jeb Phillips
Jeb Phillips
https://pediatricsnationwide.org/wp-content/uploads/2021/03/Jeb-Phillips.jpg
Optimal timing of procedures and reduction of adverse events are avenues for future study.
Approximately half of babies born at less than 32 weeks of gestational age have persistent patent ductus arteriosus (PDA), a condition associated with higher odds of death and respiratory morbidity. When doctors choose to close the ductus, a percutaneous approach is considered the standard of care beyond 1 to 2 years of age. However, more recent research suggests the procedure is feasible at earlier ages, and in infants born very preterm at a weight of less than 4 kg.
A recent multidisciplinary study from Nationwide Children's Hospital has shown that percutaneous PDA closure is feasible for those very preterm infants, and that pulmonary function tended to improve after the procedure.
"Despite the significant body of evidence indicating that a PDA may worsen outcomes, there is increasing uncertainty about optimal timing to close the PDA and optimal patient selection," says Carl H. Backes, MD, lead author of the study and a neonatologist and cardiologist at Nationwide Children's. "Our cardiac catheterization team at Nationwide Children's continues to refine percutaneous (catheter-based) PDA closure during infancy. This study is a first step in determining the feasibility and risk profile of percutaneous closure in infants weighing less than 4 kg, and shows clinicians that it is a potential alternative to surgical ligation in these infants."
The study, published in the Journal of the American Heart Association, retrospectively analyzed the records of 52 infants born very preterm who underwent attempted percutaneous PDA closure between January 2005 and January 2014. The median weight of the babies was 2.9 kg, with 25 percent weighing less than 2.5 kg. The procedures took place in the cardiac catheterization lab suites at The Heart Center at Nationwide Children's.
The majority of the babies had already undergone medical treatment for PDA closure. In every case, the babies were ultimately referred for percutaneous closure because of respiratory insufficiency.
A closure device – most often the AMPLATZER™ Vascular Plug II – was successfully placed in 46 of the 52 infants. In five of the unsuccessful attempts, the plug was correctly positioned but not released because of aortic isthmus narrowing in four cases and left pulmonary artery obstruction in one. The sixth unsuccessful attempt resulted in the plug embolizing to the left pulmonary artery, and the infant was referred to surgery for device retrieval. This highlights the need for continued research and development of even newer and better devices, according to the authors.
The Pulmonary Score decreased over time for babies with successful closures, indicating improved respiratory status, and the odds of receiving mechanical ventilation decreased 58 percent on average every week following closure.
Notably, an adverse event occurred in 33 percent of cases. Acute arterial injury at the access site was the most common, occurring in 19 percent of infants. Normal perfusion to the extremity was eventually established in all patients. These very preterm babies are at high risk for vascular injury, so approaches that limit arterial access for the percutaneous procedure may be important going forward, the authors say. Ever smaller sheaths and catheters likely will help reduce complications as well.
"Advances in technology have certainly helped us, but I cannot stress enough the need for a collaborative effort when treating a premature baby with a PDA," says Darren P. Berman, MD, senior author of the study and co-director of Cardiac Catheterization and Interventional Therapy in The Heart Center at Nationwide Children's. Neonatologists, cardiologists, interventional cardiologists, cardiac surgeons and developmental specialists must all come together for these fragile patients."
Both Dr. Backes and Dr. Berman stress that while this study shows percutaneous closure is a viable option for preterm babies, it also leads to a number of questions: Is it a better option than surgical ligation? A better option than medical management alone? What is the best timing for closure?
"A clear understanding of risk-benefit profiles demands that additional studies comparing various treatment strategies be conducted," Dr. Backes says. "We plan to continue our research in this area of medicine that does not have relevant, reliable data to guide clinical decision making."
Reference:
Backes CH, Cheatham SL, Deyo GM, Leopold S, Ball MK, Smith CV, Garg V, Holzer RJ, Cheatham JP, Berman DP. Percutaneous patent ductus arteriosus (PDA) closure in very preterm infants: feasibility and complications. Journal of the American Heart Association. 2016 Feb 12;5(2).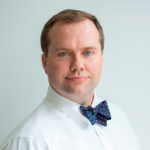 Jeb is the Managing Editor, Executive Communications, in the Department of Marketing and Public Relations at Nationwide Children's Hospital. He contributes feature stories and research news to PediatricsOnline, the hospital's electronic newsletter for physicians and other health care providers, and to Pediatrics Nationwide. He has served as a communications specialist at the Center for Injury Research and Policy at The Research Institute and came to Nationwide Children's after 14-year career as daily newspaper reporter, most recently at The Columbus Dispatch.
Jeb Phillips

https://pediatricsnationwide.org/author/jeb-phillips/

Jeb Phillips

https://pediatricsnationwide.org/author/jeb-phillips/

Jeb Phillips

https://pediatricsnationwide.org/author/jeb-phillips/

Jeb Phillips

https://pediatricsnationwide.org/author/jeb-phillips/