Preventing Accidental Ingestion of Marijuana
Preventing Accidental Ingestion of Marijuana
https://pediatricsnationwide.org/wp-content/uploads/2023/10/AdobeStock_499027928-1024x683.jpg
1024
683
Abbie Miller
Abbie Miller
https://pediatricsnationwide.org/wp-content/uploads/2023/05/051023BT016-Abbie-Crop.jpg
If you are a child, and you find a bag of fruit snacks — you don't eat just one piece.
The THC/marijuana products on the market today have an average of 10-20 mg in one serving. That's one square of a chocolate bar, one gummy (which looks like a fruit snack) or one chip.
"THC gummies are the most common accidental overdose we see," says Hannah Hays, MD, chief of Toxicology at Nationwide Children's and medical director of the Ohio Poison Control Center. "Adults or teens who are using these think that the small children in the home can't find them. They can, and they do."
For a child who eats even one piece, the results are dangerous. When they are eating more, it can be devastating. Children are not just small adults.
There's a myth that you can't overdose from marijuana/THC. And while the effects of having "too much" are generally not life-threatening for adults, for kids and teens, ingesting large amounts (like a whole bag of gummies or a candy bar) can lead to seizures, heart problems, brain damage and death.
"Small children with accidental exposure to THC may end up needing a ventilator to help them breathe," says Dr. Hays. "They can become comatose."
Leah Middelberg, MD, emergency medicine physician at Nationwide Children's, says that in the Emergency Department, parents don't always know their child ate a THC product.
"It's a scary situation for everyone. We train our teams to ask about marijuana when we are trying to find the cause of the symptoms," she says. "But sometimes they don't think the child could have possibly found the product, so we have to go through a lot of testing, which can be invasive."
Effects also take a while to kick in with these products, posing another challenge.
"By the time they start feeling bad, feeling the effects of the THC, they've probably eaten most of the product," adds Dr. Middelberg, who is also a principal investigator in the Center for Injury Research and Policy at Nationwide Children's.
Safe storage is essential.
Out of sight.
Out of reach.
Locked.
These are the recommendations for safe storage of prescription medications, including opioids. It's also the recommendation for marijuana/THC products.
"Educating families about the risks of marijuana products for young children and talking about safe storage in a nonjudgmental way is the first step to protecting kids," Dr. Middelberg says. "We prefer that these products not be in homes with small children, but if they are, they need to be stored appropriately."
"These products are marketed to look like food," adds Dr. Hays. "We can't expect young children to know the difference."
This article also appears in the Fall/Winter 2023 print issue. Download the full issue.
Image credit: Adobe Stock
Dr. Christopher Gaw and Dr. David Kling join Dr. Mike in the PediaCast studio to explore the dangers of cannabis edibles in young children. THC-infused gummies, brownies and cookies are widely available… and severe toxicity can result from ingesting just a handful.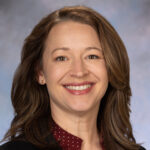 Abbie (Roth) Miller, MWC, is a passionate communicator of science. As the manager, medical and science content, at Nationwide Children's Hospital, she shares stories about innovative research and discovery with audiences ranging from parents to preeminent researchers and leaders. Before coming to Nationwide Children's, Abbie used her communication skills to engage audiences with a wide variety of science topics. She is a Medical Writer Certified®, credentialed by the American Medical Writers Association.
Abbie Miller

https://pediatricsnationwide.org/author/abbie-miller/

Abbie Miller

https://pediatricsnationwide.org/author/abbie-miller/

Abbie Miller

https://pediatricsnationwide.org/author/abbie-miller/

Abbie Miller

https://pediatricsnationwide.org/author/abbie-miller/