New Guidelines for Care of Children With Cerebral Palsy
New Guidelines for Care of Children With Cerebral Palsy
https://pediatricsnationwide.org/wp-content/uploads/2023/01/041719BS0016-Taryn-1024x683.png
1024
683
Abbie Miller
Abbie Miller
https://pediatricsnationwide.org/wp-content/uploads/2023/05/051023BT016-Abbie-Crop.jpg
Guidelines from the American Academy of Pediatrics and the American Academy for Cerebral Palsy and Developmental Medicine highlight advances in diagnosis, care and outcomes for children and adolescents with cerebral palsy.
In late 2022, the American Academy of Pediatrics and the American Academy for Cerebral Palsy and Developmental Medicine released new guidelines to help primary care providers support optimal care and outcomes for children and adolescents with cerebral palsy (CP).
CP is the most common motor disorder diagnosis in children. It is a group of disorders that affect a person's ability to move and maintain balance and posture. Causes of CP include preterm birth or complications just before or after birth, such as maternal infection. As many as 30% of children affected likely have a genetic cause for their CP.
As the medical home for children with complex care needs, primary care providers provide general medical care, serve as a sounding board and support for families, source of referrals to specialists and therapists, and someone who can help keep the whole health of the child and family at the center of care.
"Although CP is a motor disorder caused by an injury or disturbance in the brain, patients with CP can experience difficulties in other areas of body that require care from numerous specialties," says Garey Noritz, MD, lead author of the guidelines, physician at Nationwide Children's Hospital and chairperson of the AAP Council on Children With Disabilities. Other experts from Nationwide Children's who were part of the publication include Katherine Steingass, MD, also a lead author, and Laurie Glader, MD, section chief of Complex Care.
"Children and youth with CP benefit from an interdisciplinary approach to their care, which often includes a developmental pediatrician, neurologist or physiatrist, orthopedic and neurological surgeons, and therapists. Depending on other comorbid conditions, the treating team might include many other specialties, such as pulmonologists and gastroenterologists," says Dr. Noritz. "The primary pediatrician is a vital, but often underutilized part of this team, and we recommend that every child with CP have a strong connection with a primary care medical home to supervise their overall health."
These guidelines, updated from the original 2006 report, include a focus on the importance of early identification of CP. Research shows that CP can be accurately diagnosed at 9 months of age, or even earlier. Because of this, the new guidelines recommend standard developmental screens at 9, 18 and 30 months, with active surveillance of younger children, especially those that had difficulties in the newborn period.
If a neuromotor disorder is suspected, primary care providers should take three simultaneous actions: begin a diagnostic workup, refer to a specialist for diagnostic evaluation and refer the family to early intervention programs and therapies. Earlier treatment and therapy improve outcomes by taking advantage of the neuroplasticity of the developing infant brain.
Beyond early detection and treatment, the guidelines also include updates addressing disparities and barriers to care, behavioral and mental health, pulmonary and digestive problems, pain and palliative care and transition to adult care.
Reference:
Noritz G, Davidson L, Steingass K, Council on Children with Disabilities, The American Academy For Cerebral Palsy And Developmental Medicine. Providing a primary care medical home for children and youth with cerebral palsy. Pediatrics. 2022;150(6);e2022060055.
Image credit: Nationwide Children's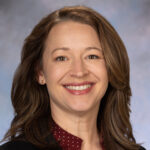 Abbie (Roth) Miller, MWC, is a passionate communicator of science. As the manager, medical and science content, at Nationwide Children's Hospital, she shares stories about innovative research and discovery with audiences ranging from parents to preeminent researchers and leaders. Before coming to Nationwide Children's, Abbie used her communication skills to engage audiences with a wide variety of science topics. She is a Medical Writer Certified®, credentialed by the American Medical Writers Association.
Abbie Miller

https://pediatricsnationwide.org/author/abbie-miller/

Abbie Miller

https://pediatricsnationwide.org/author/abbie-miller/

Abbie Miller

https://pediatricsnationwide.org/author/abbie-miller/

Abbie Miller

https://pediatricsnationwide.org/author/abbie-miller/