Polysomnography in Infants: How Much Total Sleep Time is Really Needed?
Polysomnography in Infants: How Much Total Sleep Time is Really Needed?
https://pediatricsnationwide.org/wp-content/uploads/2021/01/013019BS2257_c._header-1024x575.jpg
1024
575
Abbie Miller
Abbie Miller
https://pediatricsnationwide.org/wp-content/uploads/2023/05/051023BT016-Abbie-Crop.jpg
Study identifies factors affecting total sleep time and suggests shorter sleep times can be effective for accurate interpretation and clinical decision making.
In a recent study published in American Journal of Perinatology, experts from Nationwide Children's Hospital investigated factors that affect total sleep time(TST) during infant polysomnography (PSG) in an effort to determine how much TST is needed for accurate interpretation and diagnosis of sleep disordered breathing.
"Nationwide Children's has one of the largest pediatric sleep medicine labs where we do more than 2000 studies a year, of which about 100 are in infants," says Grace Paul, MD, physician in the Division of Pulmonary and Sleep Medicine at Nationwide Children's. "Current recommendations suggest that at least 8 hours of sleep needs to be recorded to make an accurate interpretation in an infant, but there are many logistical challenges to obtaining an ideal sleep study of an infant."
"Our goal was to describe the current challenges and to look at way to overcome the hurdles in obtaining a good infant sleep study," adds Mark Splaingard, MD, director of the Sleep Disorders Center at Nationwide Children's and an author of the study. "We also ended up showing that shorter sleep durations may be sufficient to adequately interpret an infant sleep study and that despite limitations, sleep specialists can still make good clinical decisions with the data obtained in the shorter time."
Infant PSGs are clinically helpful in assessing the safety of discharge of infants from the NICU, particularly those with chronic lung disease, prematurity, craniofacial anomalies, chromosomal abnormalities and other medical complexities.
For the study, 242 infant PSGs were performed on 194 infants. Each PSG had 8 hours of total recording time, unless limited by technical issues.
The team identified several factors that affected TST on an infant PSG, including:
Postmenstrual age
Medical complexity
Location of the study
Time of day
Environment
Presence of nasal tubes
They also showed that TST greater than or equal to 4 hours was noted among infants during nocturnal PSGs, at older chronological and postmenstrual ages, without medical complexity and lower apnea-hypopnea index.
"Infant sleep is complex, and infant sleep studies are important to guide important medical and surgical decisions," says Dr. Paul. "By considering and modifying simple logistical factors when performing an infant sleep study, the quality and total sleep duration of the study can be improved."
The group is currently looking at the role of sleep and feeding among infants and investigating possible uses of combined sleep and impedance studies in infants.
Reference:
Paul GR, Hayes Jr D, Tumin D, Gulati I, Jadcherla S, Splaingard ML. What are factors affecting total sleep time during video polysomnography in infants? American Journal of Perinatology. 2020 Oct 27.  [Epub ahead of print]
Image credit: Nationwide Children's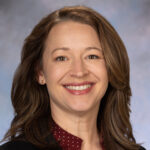 Abbie (Roth) Miller, MWC, is a passionate communicator of science. As the manager, medical and science content, at Nationwide Children's Hospital, she shares stories about innovative research and discovery with audiences ranging from parents to preeminent researchers and leaders. Before coming to Nationwide Children's, Abbie used her communication skills to engage audiences with a wide variety of science topics. She is a Medical Writer Certified®, credentialed by the American Medical Writers Association.
Abbie Miller

https://pediatricsnationwide.org/author/abbie-miller/

Abbie Miller

https://pediatricsnationwide.org/author/abbie-miller/

Abbie Miller

https://pediatricsnationwide.org/author/abbie-miller/

Abbie Miller

https://pediatricsnationwide.org/author/abbie-miller/