Health Care and Medication Use Among Adolescents with Opioid Use Disorder in Ohio
Health Care and Medication Use Among Adolescents with Opioid Use Disorder in Ohio
https://pediatricsnationwide.org/wp-content/uploads/2019/05/062615ds3218_header-1024x575.jpg
1024
575
Abbie Miller
Abbie Miller
https://pediatricsnationwide.org/wp-content/uploads/2023/05/051023BT016-Abbie-Crop.jpg
From Ohio – a state in the heart of the opioid crisis – a new study on the medications prescribed to teens with opioid use disorder.
A new study from researchers in the Center for Innovation in Pediatric Practice at the Abigail Wexner Research Institute at Nationwide Children's Hospital, recently published in Journal of Adolescent Health, examined Medicaid claims among adolescents with opioid use disorder (OUD) in Ohio.
"This is the first study to look at health care utilization, including prescription medications, in the months prior to and after OUD diagnosis," says Laura Chavez, PhD, MPH, senior research scientist in the Center for Innovation in Pediatric Practice at AWRI. "We wanted to better understand how and when these adolescents were accessing care."
The retrospective study included adolescents (12- to 18-years-old) enrolled in Ohio Medicaid with an index OUD diagnosis between Aug. 1, 2012 and May 31, 2016. Health care access was analyzed for one year prior and 3 months after OUD diagnosis.
Prior to OUD diagnosis, pain diagnoses were prevalent, as were prescriptions for opioid analgesics.
"Our results provide further evidence that exposures to prescribed opioid analgesics during adolescence may increase risk for future misuse," says Dr. Chavez. "Careful monitoring, education and support for teens prescribed opioids for pain are essential."
During the three months after an OUD diagnosis, 48.5% of the teens had general medical outpatient visits and 29% received outpatient behavioral health services.
This study also found that teens with OUD rarely received medication treatment for OUD (only 4.6%). In fact, they were more likely (9.8%) to be prescribed opioid analgesics such as oxycodone, even after the diagnosis of OUD. Other medications prescribed for teens with OUD included antipsychotics and antidepressants and, rarely, benzodiazepines. The results suggested that most medication treatment for mental health conditions was a continuation of previously initiated treatment.
"We don't know if the providers prescribing opioids to teens with OUD were aware of the diagnosis when they did so," says Dr. Chavez. "But it's clear that very few teens with OUD diagnoses are receiving medication to treat their disease, though they are receiving other medications, including medicine for depression and anxiety."
Relapse without medication to treat addiction is high. According to the National Institute of Drug Abuse, medications such as buprenorphine, naltrexone or methadone decreases opioid use, opioid-related overdose deaths, criminal activity and infectious disease transmission. It also increases social functioning and retention in treatment.
The Medication Assisted Treatment for Addiction (MATA) Program at Nationwide Children's, is the longest operating program in Ohio currently offering MAT for teens with OUD, and remains one of few in the state. The team uses buprenorphine/naloxone (brand names Suboxone® and Zubsolv®) as part of the comprehensive approach, including behavioral health and primary care supports.
Nationally, among all treatment programs for youth listed by the Substance Abuse and Mental Health Services Administration, only 37% offer medications for OUD.
Few pediatric or family practice providers prescribe medications for addiction. Prior to 2000, providers outside of drug treatment programs were prohibited from prescribing buprenorphine. However, as a result of the Drug Treatment Act of 2000, providers may attend training and apply for a waiver to prescribe the medication.
"Our study highlights a missed opportunity to deliver effective treatments for teens with OUD," says Dr. Chavez. "A large proportion had contact with the health care system after diagnosis, but few received medication treatment as part of their care. As providers look at ways to increase access to medications for adults with OUD, we shouldn't forget the adolescents who would benefit."
Reference:
Chavez LJ, Bonny AE, Bradley KA, Lapham GT, Cooper J, Miller W, Chisolm DJ. Medication Treatment and Health Care Use Among Adolescents With Opioid Use Disorder in Ohio. Journal of Adolescent Health. 2020 Jul;67(1):33-39.
Photo credit: Nationwide Children's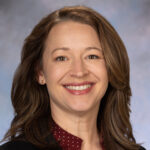 Abbie (Roth) Miller, MWC, is a passionate communicator of science. As the manager, medical and science content, at Nationwide Children's Hospital, she shares stories about innovative research and discovery with audiences ranging from parents to preeminent researchers and leaders. Before coming to Nationwide Children's, Abbie used her communication skills to engage audiences with a wide variety of science topics. She is a Medical Writer Certified®, credentialed by the American Medical Writers Association.
Abbie Miller

https://pediatricsnationwide.org/author/abbie-miller/

Abbie Miller

https://pediatricsnationwide.org/author/abbie-miller/

Abbie Miller

https://pediatricsnationwide.org/author/abbie-miller/

Abbie Miller

https://pediatricsnationwide.org/author/abbie-miller/