The Smallest Victims of the Opioid Crisis
The Smallest Victims of the Opioid Crisis
https://pediatricsnationwide.org/wp-content/uploads/2016/04/NAS-header-1024x575.jpg
1024
575
Abbie Miller
Abbie Miller
https://pediatricsnationwide.org/wp-content/uploads/2023/05/051023BT016-Abbie-Crop.jpg
Research, protocols and community connections lead to help infants with neonatal abstinence syndrome and their mothers.
It's a sound you'd never forget. The panicked, high-pitched cry of a newborn withdrawing from the drugs his mother took. All the sensations that drive an addict to use again and again just for the relief – shaking, vomiting, fevers, irritability – are coursing through the small body of an infant in the first days and weeks of life.
The infants didn't choose to take drugs, but they are paying the price. Infants born to mothers addicted to opioids face a difficult start to life. Care for these infants and support for the mothers to obtain prenatal care and addiction treatment during and after pregnancy is critical to improving outcomes for these families.
As a direct effect of the growing opioid crisis, the number of infants born with neonatal abstinence syndrome (NAS) is on the rise nationally. Since 2004, the rate of babies born with NAS has nearly quadrupled (from 7 of every 1000 births to 27 of every 1000 births).
As the number of those affected by opioids grows, the rallying cry around these infants grows louder. These infants, and their mothers, need the support of their physicians and their communities to survive.
Treating Opioid-Dependent Newborns
"At Nationwide Children's, we've developed protocols for the care of infants with NAS," says Kristina Reber, MD, associate division chief of Neonatology at Nationwide Children's Hospital. "By standardizing our interventions – both pharmacologic and nonpharmacologic – and using evidence-based techniques, we have been able to reduce length of stay for these infants."
According to Dr. Reber, the first level of intervention for a baby with NAS is nonpharmacologic treatment. "Part of our protocol is to minimize the amount of medication that we use to treat NAS," she explains. "Breastfeeding, swaddling, holding, keeping a quiet and dimly lit environment – all these things support the newborn through the withdrawal process."
Some nonpharmacologic interventions, such as breastfeeding and skin-to-skin contact, are not just good for the baby. They're good for the mother, too.
"In this situation, mothers need to have support to bond with their babies and to be able to care for them," says Dr. Reber. "The benefits of breastfeeding for both the mother and the baby outweigh the risks of passing on an opioid maintenance medication to the baby."
Pharmacologic treatment involves giving the infant decreasing doses of a medication, usually methadone, to help soothe the withdrawal symptoms and wean the infant gradually. Recent progress in creating protocols around methadone weaning has resulted in better care, lower health care costs and collaboration across institutions.
Currently, six children's hospitals in Ohio follow a strict protocol that enables babies to be weaned from opioids faster, resulting in shorter length of stay and reduced use of adjunctive drugs, according to a new study published in the journal Pediatrics.
Treating Addicted Mothers
Dr. Reber says that it is important for expectant mothers to get into a medication-assisted treatment program. Maintenance therapy, such as with methadone or suboxone, for the treatment of narcotic addiction during pregnancy reduces the risks to babies once they are born.
"If a mother uses street drugs, the outcomes are much worse for the baby," says Dr. Reber, who is also an associate professor of Clinical Pediatrics at The Ohio State University College of Medicine. "Additionally, it's much better for a baby to go home with a mom on maintenance therapy and in a treatment program. In fact, if the mother is in a treatment program, it is much more likely that she will keep her baby."
According to Dr. Reber, by partnering with The Ohio State University Substance Abuse, Treatment, Education and Prevention (STEP) Clinic, which is part of Maternal and Fetal Medicine, neonatologists are able to help prepare mothers who are addicted to narcotics for the challenges of caring for a baby with NAS.
"We focus on education, the Finnegan score, breastfeeding and visiting the infant in the NICU," says Dr. Reber. "This helps the mothers feel empowered. We want the moms to be as involved as possible, including scoring their babies' withdrawal symptoms."
Mothers who are addicted to opioids, even if they are on maintenance medication, face scathing social polarization. According to Dr. Reber, some moms have been offered money by well-meaning family members to abandon their maintenance medication.
"What these family members don't understand is that abrupt withdrawal during pregnancy is dangerous for both the mother and the baby, and it puts the mother at higher risk for relapse," she explains.
"If you just sit with these moms, it's really eye-opening," says Dr. Reber. "Opioid addiction affects people from all walks of life, but some of these mothers have lived through horrible things. They can't beat the cycle without a lot of help and support."
According to Dr. Reber, the need for tolerance, care and help for these families extends beyond standard medical care. "These moms need our help, not judgment. If they feel supported, they are more likely to stick with their treatment plan, keep their babies and break the cycle of addiction," she asserts.
Photo Credit: Adobe Stock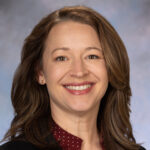 Abbie (Roth) Miller, MWC, is a passionate communicator of science. As the manager, medical and science content, at Nationwide Children's Hospital, she shares stories about innovative research and discovery with audiences ranging from parents to preeminent researchers and leaders. Before coming to Nationwide Children's, Abbie used her communication skills to engage audiences with a wide variety of science topics. She is a Medical Writer Certified®, credentialed by the American Medical Writers Association.
Abbie Miller

https://pediatricsnationwide.org/author/abbie-miller/

Abbie Miller

https://pediatricsnationwide.org/author/abbie-miller/

Abbie Miller

https://pediatricsnationwide.org/author/abbie-miller/

Abbie Miller

https://pediatricsnationwide.org/author/abbie-miller/